Chicken Biriyani
By
Arpita
© 2016 Spicy World
Nov 4, 2015
I do have someone in my home who wants to eat my handmade 'chicken biriyani' once in a week. I make this biriyani not too much rich and spicy but with some mild flavours and tendor chicken pieces. I do not like any side with my biriyani because I only want to enjoy those flavours of biriyani. For him I make 'korma'/'chaaap'/'kosha' etc. Enjoy your weekend with a full plate of homemade warm Biriyani.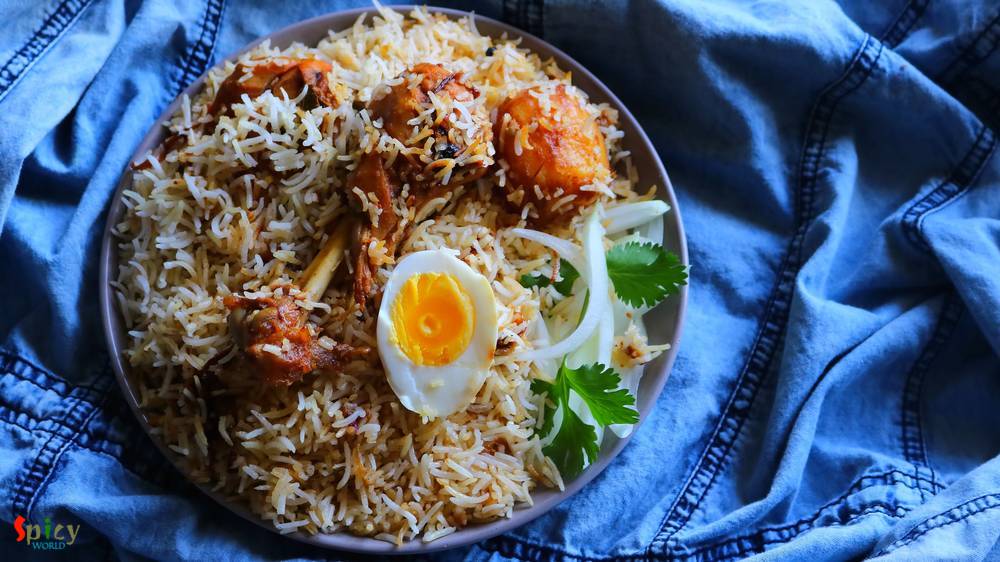 Ingredients
Chicken leg pieces 4.
Basmati rice 4 cups.
Two small potatoes.
One onion sliced.
Ginger and garlic paste 2 Teaspoon.
Curd 4 Teaspoon.
Biriyani masala 4 Teaspoon.( from any indian store).
Cumin seed 1 Teaspoon.
Green cardemom 5.
Six cloves.
One star anis.
One small cinnamon stick.
Yellow food colour.
Two green chilies.
Clarified butter/ghee 8 Teaspoons.
2 Teaspoons kewra water.
Salt and sugar.
Water.
Steps
Marinate the chicken pieces with curd, ginger and garlic paste for 3 hours.
Take a pan. Heat 4 Teaspoons ghee.
Add sliced onion. Fry it till golden brown.
Add marinated chicken. Miw it well.
Add salt, biriyani masala, green chilies and potato. Mix it very well for 5 minutes.
Now add some luke warm water and cook this until potatoes and chicken are fully done.
Dont make it too much runny or dry. Make some thick gravy .
Turn of the gas.
Now wash the basmati rice in cold water very well.
Boil some water with cumin seeds, green cardemom, cloves, cinnamon stick, star anis and 4 Teaspoons salt.
Add the rice in boiling water. Chech the rice every two minutes.
When the rice 80% done drain the water.
Now take vessel. Dont turn on the gas. Put 1 Teaspoon ghee.
Then put a layer of cooked chicken with some gravy, then a layer of rice. Repeat the process twice. Add 3 Teaspoons ghee, 2 Teaspoons of kewra water and a pinch of yellow food color on top of rice.
Cover the vessel with a very tight lid. Turn on the gas and keep the vessel on gas for 20 minutes in medium flame.
Then turn off the gas and keep it uncover for another 10 minutes. After that open the vessel.
Your chicken biriyani is ready .... Enjoy ...!!
Serve hot with raita, gravy or any type of curry.

All Images and Recipes are copyrighted to Spicy World.
For more recipes visit us at http://spicyworld.in