Egg Roll
By
Arpita
© 2016 Spicy World
Oct 30, 2015
One of the famous street food from Kolkata is 'egg roll'. A flaky paratha, a layer of egg and lots of veggies with sauces will never fail to satisfy your appetite. There are so many varities of roll like 'egg-chicken roll', 'mutton roll', 'paneer roll', 'egg-mutton roll' etc. They all are very yummy and easy to make. Try this in your kitchen and let me know about your story.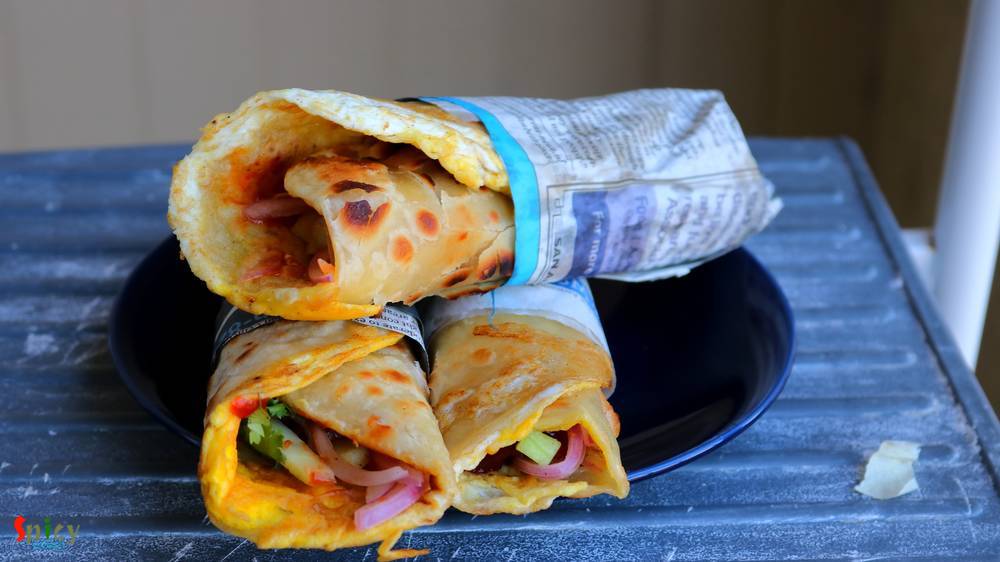 Ingredients
For paratha
2 cups of all purpose flour.
2 Teaspoons white oil.
4 Teaspoons curd or yogurt.
Salt.
Warm water.
For layering and filling
3 eggs.
Salt.
1 cup cucumber thinly sliced.
1 cup onion thinly sliced.
3 green chilies chopped.
3 Tablespoons green chutney.
3 Tablespoons chili sauce.
3 Teaspoons tomato ketchup.
Steps
Put flour, little salt, oil and curd in a bowl. Mix it with your hand very well for 2 minutes.
Then add little by little warm water and mix it. Make a semi soft dough. Knead the dough for 4 minutes and cover with a damp cloth for 15 minutes.
Now take a small portion in your palm. Shape it like a ball. Dip it in the flour and flatten it to 3-4 inch with rolling pin.
Heat a tawa / frying pan for 2 minutes.
Place the paratha in the hot tawa for 2 minutes.
Turn the side and give it another 2 minutes. Remove it from the pan. You will need half-cooked paratha.
Frying
Now heat 3 Tablespoons of white oil in a pan.
Beat a egg with pinch of salt and add in the hot oil. Immediately place the half cooked paratha on the egg because it will stick to the egg.
After 3 minutes of frying turn it to the other side and give it another 3 minutes. After that remove it from the pan.
I mentioned 3 eggs because you can make 3 rolls out of the ingredients.
Assembling
Now as a filling first spread 1 table spoon green chutney, then some cucumber and onion slices, some green chilies and lastly add 2 sauces.
Roll the paratha and secure one side with paper towel (take a look at the picture).
Your yummy Egg roll is ready ...
Enjoy this hot with your family ...

All Images and Recipes are copyrighted to Spicy World.
For more recipes visit us at http://spicyworld.in