Beguni (Crispy Eggplant Fritters)
By
Arpita
© 2016 Spicy World
Sep 28, 2015
We, Bengalis, call them 'beguni'. Some people call them 'baingan bhajji'. There is no difference among the names. This is all about the tastiness and chrunchiness. You can get this fritter with some puffed rice and green chili in Bengal from any 'choper dokan'/fast food centers. When they serve this in 'thonga'/paper bag, the feel and look always increase my apetite a bit. Make this at your home and enjoy the crunch with a cup of tea.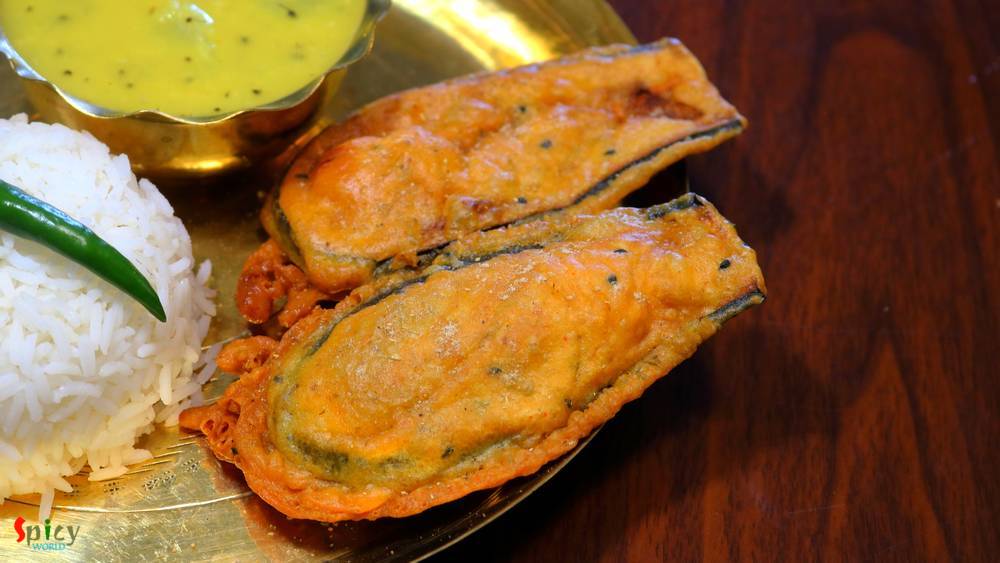 Ingredients
Eggplant/Brinjal very thinly sliced 8 pieces.
Bengal gram flour (besan) 1 small cup.
Red chili powder half Teaspoon.
Turmeric powder half Teaspoon.
Dry mango powder half Teaspoon.
Baking powder half Teaspoon.
Nigella seeds 1 Teaspoon.
Salt.
Water.
White oil for deep fry.
Steps
Soak the eggplant slices in cold water for 15 minutes.
Take a bowl and put gram flour.
Then add all the powder, nigella seeds and some salt. Mix all the things very well with your hand or egg beater.
Now add little water and mix it. The batter should not be too thick or too runny. Make a lump free batter and adjust the seasoning.
Keep this aside in refrigerator for 20 minutes.
Take a pan. Heat white oil for deep fry. Oil should be medium hot.
Then take a slice of eggplant, dip into the batter and put in the hot oil.
Fry very well from both side. Dont remove it from oil very fast. Otherwise it will not become crunchy.
Then keep them in paper towel for a minute and sprinkle some black salt.
Your Beguni (Eggplant fritters) are ready ...
Enjoy the crispiness of these fritters with some puffed rice or tea ...

All Images and Recipes are copyrighted to Spicy World.
For more recipes visit us at http://spicyworld.in