Bhapa Doi (Baked Yogurt) - Mango flavour
By
Arpita
© 2016 Spicy World
Oct 6, 2015
"Doi" is a very popular dessert among Bengalis. But "bhapa doi" is a very traditional Bengali dessert. My grandma used to make this in pressure cooker and it tastes super delicious. Today I am sharing both pressure cooker method and oven method with a little twist of mango flavour. My 1st compliment on this dish was "Bengali Cheesecake" from my man :) .... So, please try this and impress your family members.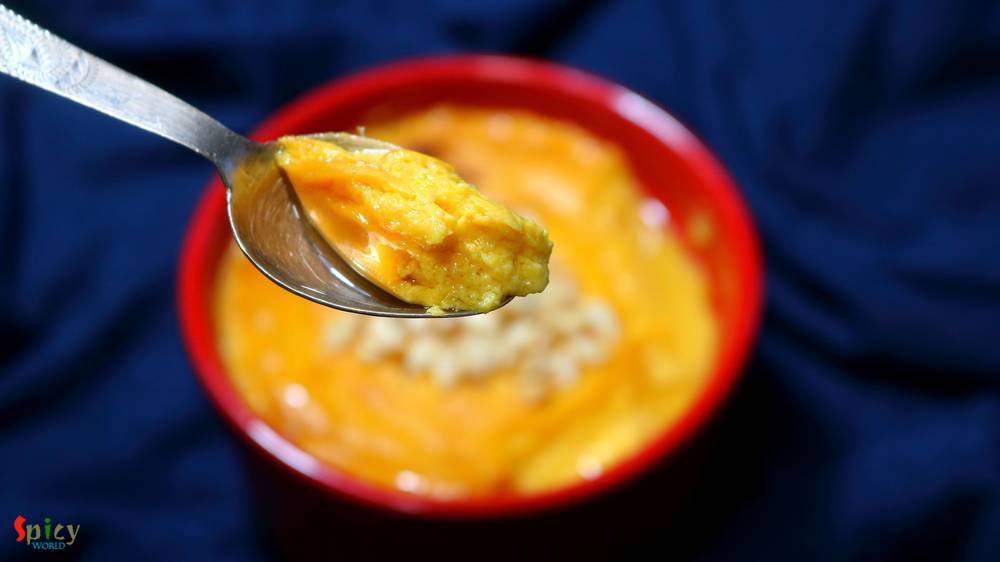 Ingredients
300 ml sweet condensed milk (1 small can).
Plain yogurt 1medium cup.
Fresh pulp of 2 ripe mangoes.
10-15 cashews finely chopped.
Water.
Steps
Initial Steps.
Put mango pulp and yogurt in a blender. Blend it very well.
Then add the condensed milk and again blend this very well.
Add the chopped cashews in the mixture and just stir this with a spoon.
Pressure cooker method
Put the mixture in a bowl.
Preheat the cooker for 3-5 minutes.
Then put an inch of water.
Then put an iron strand.
Now place the bowl on top of the strand and cover the cooker.
Turn of the gas after 12-15 minutes. Keep it there for another 5-6 minutes.
Yogurt should be set in the cooker.
Oven method
Put the mixture in a bowl.
Preheat your oven in 200c for 10 minutes.
Take a baking tray. Put some water.
Then place the bowl on the tray.
Bake this for 20-25 minutes in 180c. Let it rest for another 10 minutes.
Post Steps
Now keep this yogurt in room temperature for 15 to 20 minutes.
After that put it in the refrigerator for 1 to 2 hours.
Your Bhapa Doi is ready ...
Enjoy this as dessert ...

All Images and Recipes are copyrighted to Spicy World.
For more recipes visit us at http://spicyworld.in