Egg Curry
By
Arpita
© 2016 Spicy World
Sep 14, 2015
Don't want to spend long time in kitchen?? I know sometimes this kind of situation happens. But don't worry. I have a solution. This is the most simple and easy egg curry recipe. Anyone can enjoy a good lunch or dinner with this curry and some hot rice without spending much time in kitchen.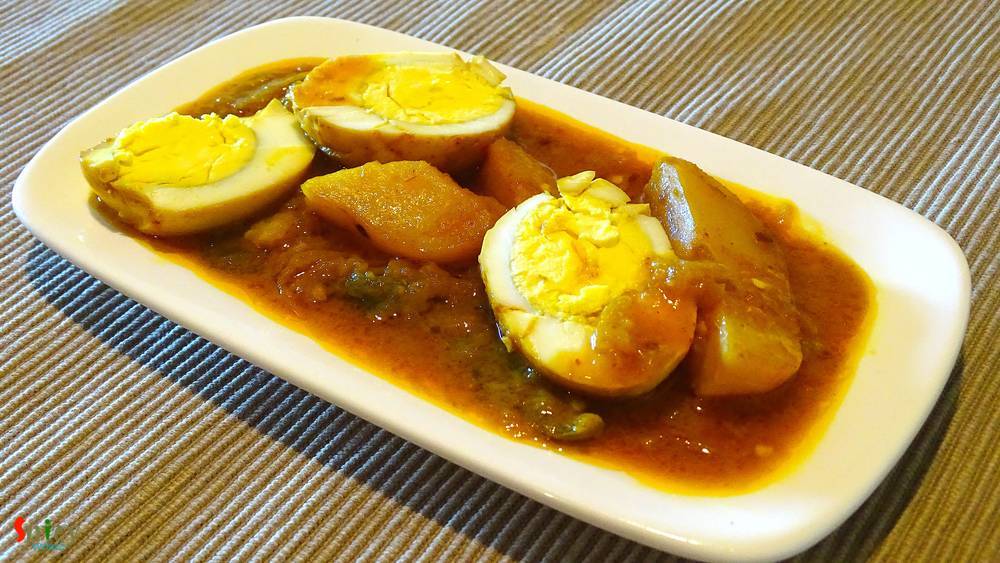 Ingredients
Two boiled eggs.
One potato julienne cuts.
One medium size onion chopped.
Ginger and garlic paste 1 Teaspoon.
One tomato chopped.
Turmeric powder 1 Teaspoon.
Cumin powder 1 Teaspoon.
Coriander powder 1 Teaspoon.
Cumin seeds 1 Teaspoon.
One bay leaf.
One dry red chili.
Two green chilies.
Garam masala powder 1 Teaspoon.
Water.
Mustard oil 4 Teaspoon.
Salt and sugar as per your taste.
Steps
Boil and peel two eggs.
Take a pan heat 2 Teaspoons oil. Add pinch of salt and then add the boiled eggs. Saute it for 2 minutes. Remove the eggs.
Heat rest of the oil. Add cumin seeds, bay leaf and dry red chili. Saute it for a minute.
Add chopped onion. Fry it till it become light brown.
Add ginger and garlic paste. Cook this for 2 minutes.
Then add chopped tomatoes , salt and sugar. Cook it for 5 minutes.
Add turmeric , cumin and coriander powder. Stir this for 2 minutes.
Add the julienne sized potatoes. Stir this for a minute. Then add half glass warm water. Cook this till potatoes are fully cooked.
Add the fried eggs and green chilies 10 minutes before you turn off your gas.
When the potatoes are done turn off your gas.
Finally sprinkle some garam masala on top of it.
Your egg curry is ready.
Enjoy this with rice, roti , naan or pulao.

All Images and Recipes are copyrighted to Spicy World.
For more recipes visit us at http://spicyworld.in