Mutton Korma
By
Arpita
© 2016 Spicy World
Oct 15, 2015
Last weekend I had a party in my house. Among all the foods, the main attraction was Mutton Korma. This dish is very rich itself. Always serve this with light rice item. Just give it a try.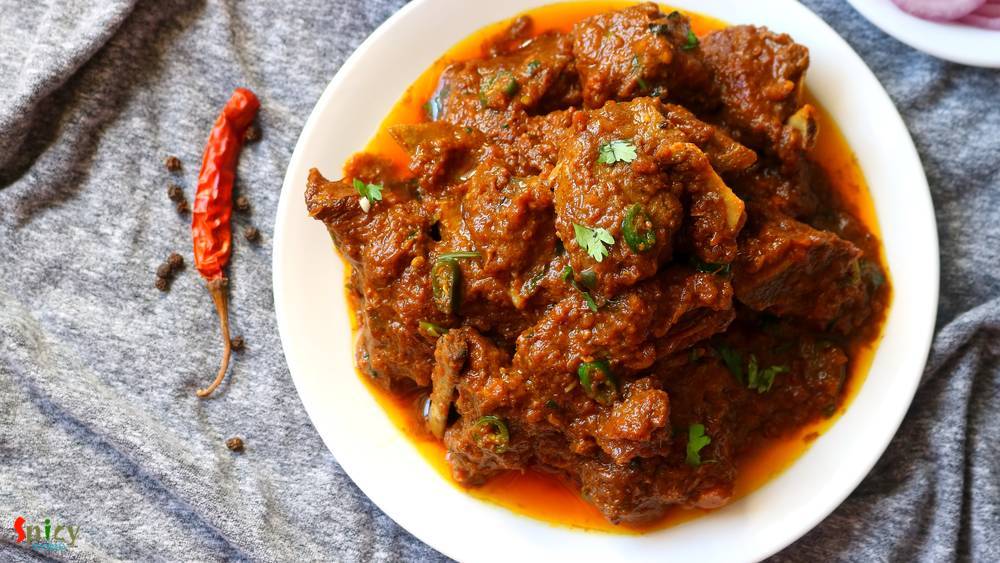 Ingredients
10-12 with bone mutton pieces.
1 big onion thinly sliced.
Ginger and garlic paste 2 Teaspoon.
Two green chilies.
Salt and sugar.
Hung curd 10 Teaspoon.
1 cinnamon stick.
5 green cardemoms.
4 cloves.
1 star anis.
Turmeric powder 3 Teaspoon.
Cumin powder 2 Teaspoon.
Coriander powder 2 Teaspoon.
Red chili powder 1 Teaspoon.
Kewra water half Teaspoon.
Mustard oil 1 Teaspoon.
Ghee 4 Teaspoon.
Warm water.
Steps
Marinate the mutton pieces with 2 Teaspoons turmeric,red chilli powder,mustadr oil and salt. Keep aside for 1 hour.
Heat some white oil in a pan. Fry thinly sliced onion until golden brown. Remove from the oil and let it cool down.
Make a paste of brown onion , 5 Teaspoons curd and two green chilies. Keep aside.
Now add all the powder and 5 Teaspoons water in the remaining curd. Stir it very well. Keep aside.
Take a pressure cooker. Heat 4 Teaspoons ghee and 1 Teaspoon mustard oil.
Add cinnamon stick,cloves,green cardemoms and star anis. Saute it for a minute.
Then add the ginger and garlic paste. Fry it for 2 minutes.
Add the curd and powder mixture. Cook this on slow flame for 20 minutes.
Then add the marinated mutton. Mix it well and cook this for 15 minutes in high flame.
Then add brown onion mixture,salt and some sugar. Stir this very well and cook it another 10 minutes.
Now add very little water and kewra water. Give it 4-5 whistle or until the meat become tendor.
Check the seasoning and turn off your gas.
Your Mutton korma is ready ...
Serve hot with pulao, jeera rice, fried rice ...

All Images and Recipes are copyrighted to Spicy World.
For more recipes visit us at http://spicyworld.in