Kadai Paneer
By
Arpita
© 2020 Spicy World
Sep 30, 2015
Though me and my hubby both are nonveg lovers, but we also love spicy veg dishes. 'Kadai Paneer' is our favourite one. Last night my dinner was this paneer dish along with butter naan. There were no other words but 'delicious and mouth watering' about the combination. The main attraction here is KADAI masala. It gives such a nice flavour in this dish. Just close your eyes and go for it.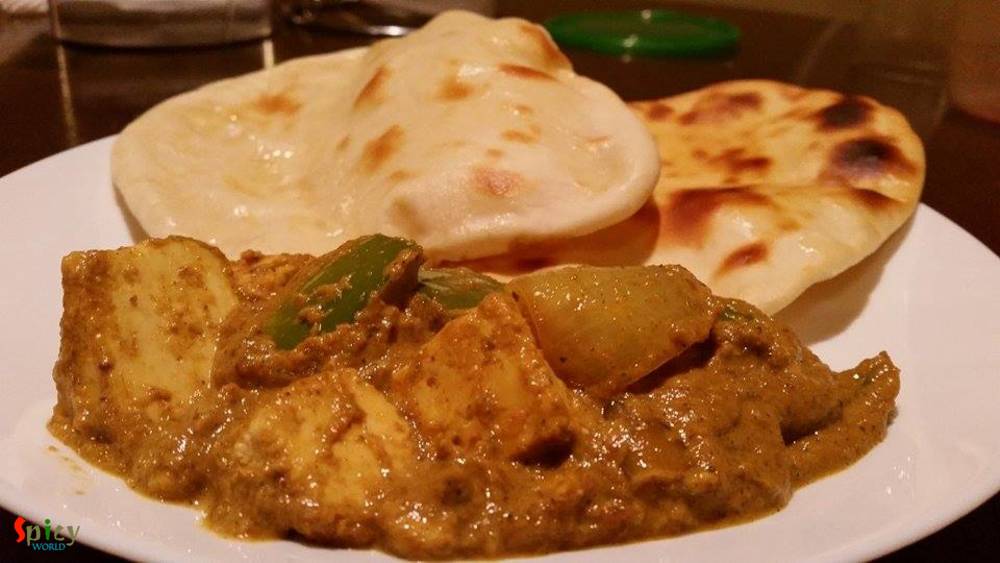 Ingredients
10-15 paneer cubes.
1 small onion chopped.
2 cloves garlic.
1 inch ginger.
1 tomato chopped.
1 green chili.
Whole spice (2 Teaspoons cumin seeds, 2 Teaspoons coriander seeds, 1 Teaspoon fennel seeds, 1 dry red chili, 1 Teaspoon whole black pepper, 2 Teaspoons dry fenugreek leaves, 2 cloves, 1 green cardemom).
Some onion shell cubes.
Green capsicum cubes.
1 Teaspoon turmeric powder.
1 Teaspoon kashmiri red chili powder.
Salt and sugar.
1 small bowl full fat cream.
Butter 2 Teaspoon.
Oil 2 Teaspoon.
Some warm water.
Steps
Roast the whole spices for some time. Then blend it like a fine powder. This is kadai masala. Keep aside.
Heat oil in a pan.
Then add chopped onion. Fry it in high flame for 6 minutes.
Then add garlic and ginger. Cook it for another 4 minutes.
Then add chopped tomato, some salt, green chili, turmeric powder and kashmiri red chili powder. Cook this for 6 minutes.
Then keep this aside for cool down.
After cooling down blend this like a fine paste. Keep aside.
Now heat the butter in a pan / kadai.
Add 2 Teaspoons of kadai masala. Mix it.
Then add the onion shells and capsicum cubes. Mix it in high flame for 2-3 minutes.
Then add the masala paste. Mix it very well.
Add half Teaspoon of sugar and very little water. Stir this and cook for 10 minutes in medium flame.
Then add paneer cubes and cream. Mix it gently. Cook another 6 minutes.
Finally add another 2 Teaspoons of kadai masala and check the seasoning.
Turn of your gas. Gravy should not be too much runny.
Your kadai paneer is ready ...
Enjoy this hot with naan, paratha ...

All Images and Recipes are copyrighted to Spicy World.
For more recipes visit us at http://spicyworld.in