Baked Chicken Legs
By
Arpita
© 2020 Spicy World
Oct 3, 2015
Wanna try something new ? Just follow this recipe and get perfect starter for your friday evening. These baked leg pieces will never fail to satisfy your apetite. Try this and surprise your family and guest.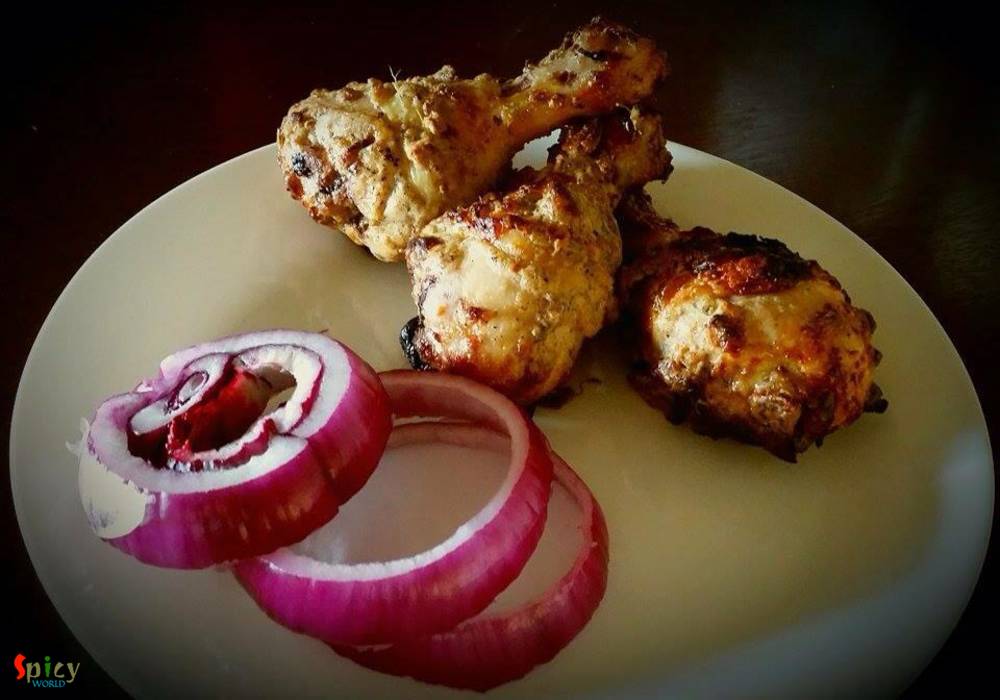 Ingredients
4 chicken legs.
4 Teaspoons hung curd.
2 Teaspoons ginger and garlic paste.
Spice powder 1 Teaspoon (cumin, coriander, white pepper, kasuri methi /dry fenugreek leave).
Salt as per your taste.
2 Teaspoons white oil.
2 Teaspoons butter.
Steps
Wash the chicken legs very well and pat dry. Make sure the chicken legs should be dry.
Make some slits with sharp knife on the chicken legs.
Then take a bowl. Put the hunk curd, ginger and garlic paste, all the spice powder, white oil and salt. Mix this with your hand.
Check the seasoning. Adjust it according to your taste. If you like more hot add more pepper powder.
Then put the chicken legs into the marination. Massage it very well with your hand.
Keep this marinated chicken in the refrigerator for 3-4 hours.
Preheat your oven in the highest temperature for 10 minutes.
Place the chicken one by one in a baking tray.
Put the tray in the oven, close to the filaments for 15 minutes in 460 degree F.
Then brush some butter and turn the legs other side.
Again bake them for 15 minutes in same temperature.
At last brush some butter and remove them in a plate.
Your Baked Chicken Legs are ready ...
Enjoy this with some onion rings and green chutney.

All Images and Recipes are copyrighted to Spicy World.
For more recipes visit us at http://spicyworld.in