Vegetable Biriyani
By
Arpita
© 2020 Spicy World
Oct 4, 2015
This dish dont need any explanation. Because its 'Biriyani'. This is the most popular dish in India. The vegetarian version of biriyani is also very tasty Just give a try and impress your family.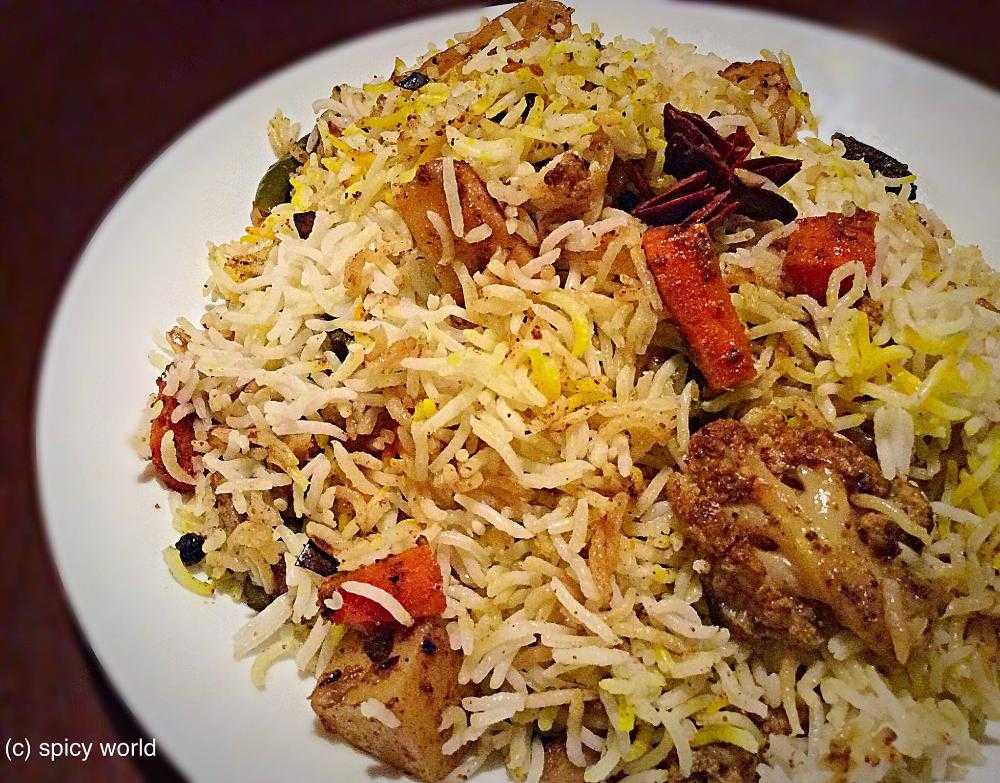 Ingredients
Basmati rice 2 cups.
2 potatoes cut into square pieces.
2 carrots chopped.
Some french beans chopped.
10 pieces of cauliflower florets.
Some green peas.
Whole spice (1 cinnamon stick, 5 cloves, 6 green cardemom, 2 bay leaf, 1 staranis, 1 Teaspoon cumin seeds).
Hung curd 4 Teaspoon.
1 onion thinly sliced.
3 green chilies.
5 Teaspoons of biriyani masala.
2 Teaspoons ginger and garlic paste.
Some saffron.
4 Teaspoons milk.
Salt and sugar.
5 Teaspoons Ghee / clarified butter.
1 Teaspoon rose water/kewra water.
White oil.
Water.
Steps
Wash the rice and soak in water for 30 minutes.
Take a small bowl. Pour 4 Teaspoons milk and add some saffron strands in it. Soak this for 30 minutes.
Fry the potatoes, carrots, cauliflower and beans 50% in white oil. Then keep aside.
Now take a pan heat 3 Teaspoons white oil.
Add onion slices. Fry it for 12 minutes.
Then add ginger and garlic paste. Mix it for 3 minutes.
Add salt, pinch of sugar and biriyani masala. Mix this very well.
Then add the hung curd. Cook this for 5 minutes.
Then add all fried vegetables, green peas and green chilies. Mix it and add some warm water. Cook this for another 10-15 minutes.
Check the seasoning. Vegetables should be 80% done and must have some gravy.
Turn of the gas. Keep aside.
Now take another vessel. Boil some water.
Add the whole spices, 5 Teaspoons salt and soaked rice in the boiling water.
The rice should be boiled 80%.
Drain the water and keep it aside with lid.
Take another pan. First put 2 Teaspoons ghee.
Put a layer of vegetables then a layer of rice.
Add 2 Teaspoons ghee on top, half Teaspoon kewra water.
Again put the layer of vegetables and rice.
Now add 1 Teaspoon ghee, kewra water and saffron soaked milk on top.
Cover the pan with a tight lid and turn on the gas in medium flame for 20 minutes.
After 20 minutes turn of the gas and rest it for another 15 minutes.
Your Vegetable Biriyani is ready ...
Enjoy this with raita / any type of gravy.

All Images and Recipes are copyrighted to Spicy World.
For more recipes visit us at http://spicyworld.in