Strawberry Milkshake
By
Arpita
© 2020 Spicy World
Oct 12, 2015
How about a chilled milkshake in a crazy hot afternoon?? Everybody will say "yessss" .. Lets do this with the sweet flavour of strawberry.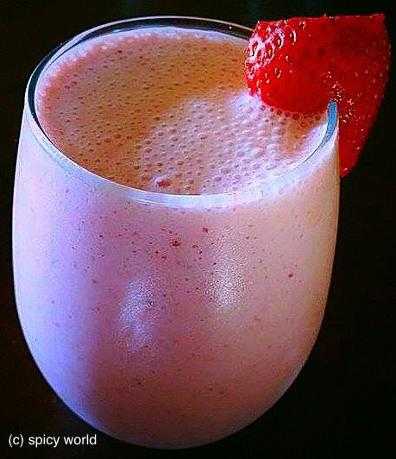 Ingredients
10 strawberries.
1 cup full fat milk.
3 scoops of vanilla / strawberry ice cream.
3 drops of vanilla essence.
Steps
Wash the strwberries very well and cut those into small pieces.
Take a blander. Put milk and stawberries first. Blend it for 3 minutes in high speed.
Then add ice cream and vanilla essence. Blen this for another 1 minute.
If your strawberries are not sweet enough you can add some powdered sugar.
Your Strawberry milkshake is ready ...
Enjoy this chill in a hot afternoon ...

All Images and Recipes are copyrighted to Spicy World.
For more recipes visit us at http://spicyworld.in