Chicken Pakora
By
Arpita
© 2020 Spicy World
Oct 12, 2015
How about a crazy snack in a rainy evening ?? Ohh yeaah its Pakora time!! Many houses have their own pakora story. In Kolkata we get this kind of chicken pakora from fast food centers. If you follow this recipe you can get the same flavour from your homemade pakora.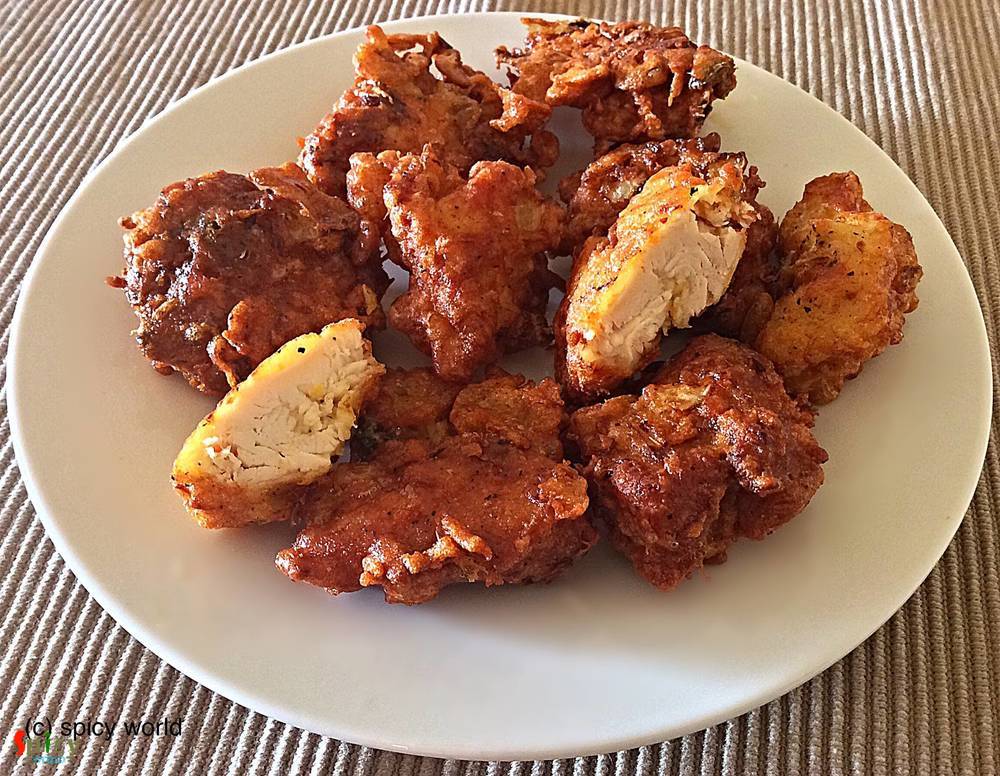 Ingredients
10 boneless chicken medium size pieces.
3 Teaspoons lemon juice.
2 Teaspoons black pepper powder.
half onion finely chopped.
1 Teaspoon finely chopped ginger.
2 Teaspoons finely chopped garlic.
2 green chilies chopped.
2 eggs.
10 Teaspoons Cornflour.
Salt to taste.
White oil for deep fry.
Steps
Marinate the chicken pieces with lemon juice, some salt and 1 Teaspoon black pepper powder. Keep it in the refrigerator for 2-3 hours.
Take a bowl. Add 2 eggs. Beat these eggs very well.
Then add cornflour little by little. Mix this well.
Then add chopped onion, ginger, garlic and green chilies. Mix it.
Adjust the seasoning by adding salt and pepper powder. Mix this entire thing very well.
Dont add water in the mixture. If this become too runny you can add some more cornflour.
Heat 3 inches of white oil in a kadai / pan.
Take a chicken piece, dip into the mixture and put into the hot oil. Fry it until golden brown.
Remove it in a paper towel.
Now again take the fried chicken, dip it into the mixture anf fry it. You have to do the process twice.
Your Chicken pakora is ready ...
Enjoy this hot with some ketchup ...

All Images and Recipes are copyrighted to Spicy World.
For more recipes visit us at http://spicyworld.in