Macher Kalia (Different Style)
By
Arpita
© 2020 Spicy World
Oct 14, 2015
We Bengalis are very fond of fish. Our common meal is fish curry and rice. This recipe is one of the fish curry which we make in occasions and gatherings. I already gave you one kaliya recipe and this one is also very tasty. Try this at your home and let me know how it turns out.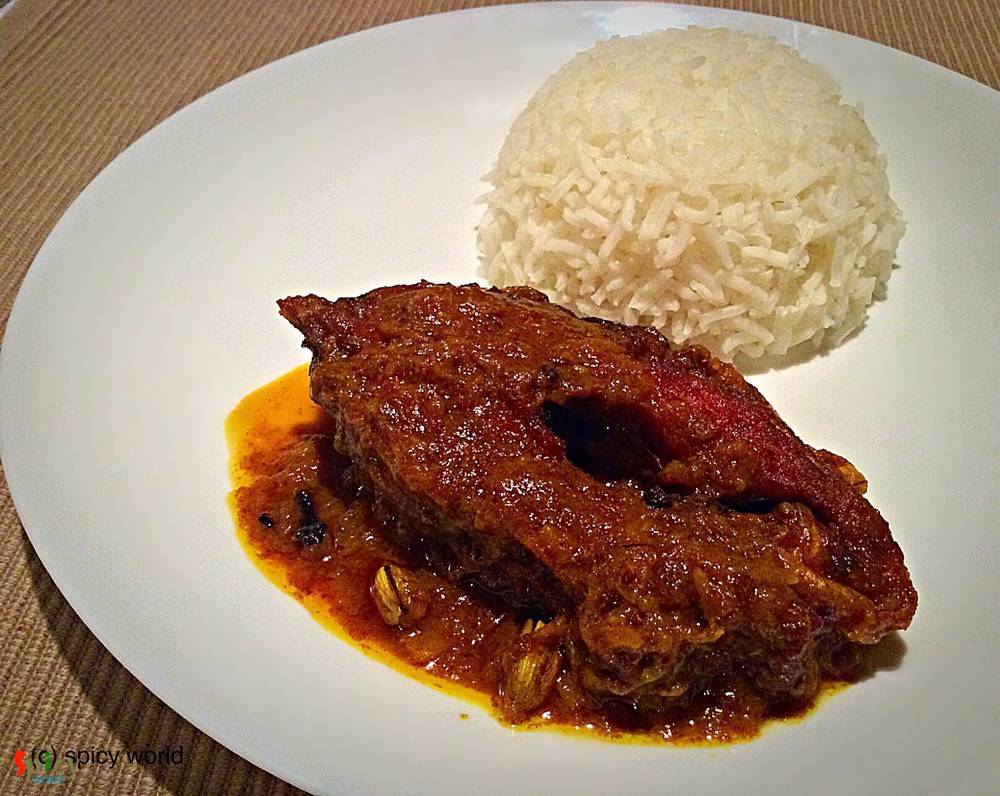 Ingredients
4 with bone fish pieces (rui / rohu / katla).
4 Teaspoons onion paste.
1 Teaspoon ginger paste.
3 Teaspoons hung curd.
3 Teaspoons turmeric powder.
1 Teaspoon cumin powder.
1 Teaspoon coriander powder.
half Teaspoons red chili powder.
Whole spices ( 1 small cinnamon stick, 3 green cardemoms, 3 cloves, 1 bay leaf)
Salt and sugar.
2 green chilies.
8 Teaspoons mustard oil.
Warm water.
1 Teaspoon ghee / clarified butter.
Steps
Wash the fish pieces very well and marinate those with some salt and 2 Teaspoons of turmeric powder. Keep aside for 20 minutes.
Take a pan. Heat 8 Teaspoons mustard oil.
Add the marinated fish pieces in hot oil and fry both sides until golden brown. Then remove those from oil.
In the same oil add whole spices. Saute it for 2 minutes.
Add onion paste. Fry it for 5 minutes.
Now take a small bowl. Add hung curd, little water, cumin and coriander powder, ginger paste, turmeric and red chili powder. Mix it very well and add into the pan. Cook this for another 4 minutes.
When oil starts separate add fried fish pieces. Mix this very well.
Then add some warm water, green chilies, salt and half Teaspoon sugar. Cook this for 5 minutes.
Check the seasoning.
Turn off your gas and add 1 Teaspoon ghee.
Your Fish Kalia is ready ...
Enjoy this with hot rice ...

All Images and Recipes are copyrighted to Spicy World.
For more recipes visit us at http://spicyworld.in