Dry Chili Fish with Mushroom
By
Arpita
© 2020 Spicy World
Oct 13, 2015
This is a very simple and easy recipe. You can serve this as starter or maincourse. You can also substitute fish with chicken. It tastes delicious. Try this at your home and tell me about your experience.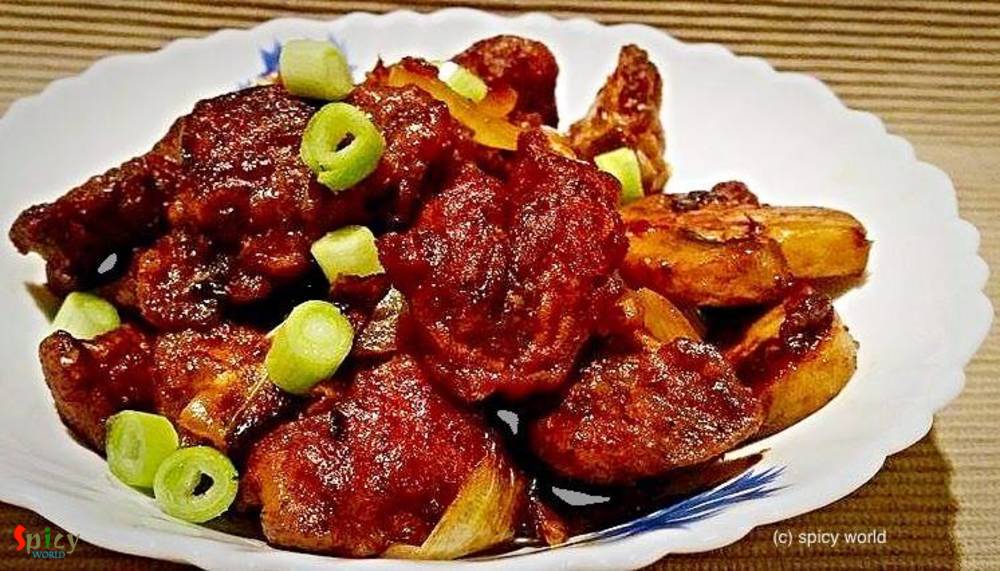 Ingredients
2 fish filets cut into small cubes (bhetki / tillapia / basa).
10 Teaspoons all purpose flour.
1 Teaspoon black pepper powder.
2 Teaspoons soy sauce.
3 Teaspoons chili sauce.
half onion cut into cubes.
1 clove of garlic chopped.
10 mushrooms.
half green capsicum chopped.
2 green chilies chopped.
3 Teaspoons tomato ketchup.
1 Teaspoon msg.
Some chopped green onions.
Salt.
Some warm water.
White oil for deep fry.
Steps
Wash the mushrooms very well and cut into half.
Take a bowl. Put all purpose flour.
Add some salt, black pepper powder and some warm water. Make a lump free, semi thick batter.
Now add 1 Teaspoon soy sauce and 1 Teaspoon chili sauce into the batter. Mix it well.
Heat white oil in a pan for deep fry.
Take a fish cube, dip it into the batter and put into the hot oil. Dont overcrowd the pan. Fry those for 6-7 minutes and remove in a paper towel.
Now take another pan. Heat 2 Teaspoons white oil.
Add chopped garlic and green chilies in hot oil. Saute it for a minute.
Then add onion cubes, chopped capsicum, mushrooms and pinch of salt. Fry this in high flame for 4 minutes.
Add very little hot water, tomato ketchup, 1 Teaspoon soy sauce, 2 Teaspoons chili sauce and 1 Teaspoon msg. Mix it very well for 3 minutes.
Now add fried fish cubes in the sauce. Saute it in high flame for 3 minutes.
The fried fish will soak the sauce and it will become dry.
Turn off your gas and sprinkle some green onions.
Your dry chili fish with mushroom is ready ...
Enjoy this hot with chowmein ...

All Images and Recipes are copyrighted to Spicy World.
For more recipes visit us at http://spicyworld.in