Mutton Tarka (Dhaba Style)
By
Arpita
© 2020 Spicy World
Oct 15, 2015
In India 'dhaba' means roadside food joints. They offer delicious and spicy meals. Among all of their meals, 'tarka-roti' is the famous one. I once ate 'Mutton Tarka' from them and it was super tasty. Last week I try this tarka recipe and reveal that it tastes exactly like 'dhaba tarka'. Just follow the recipe and impress your family.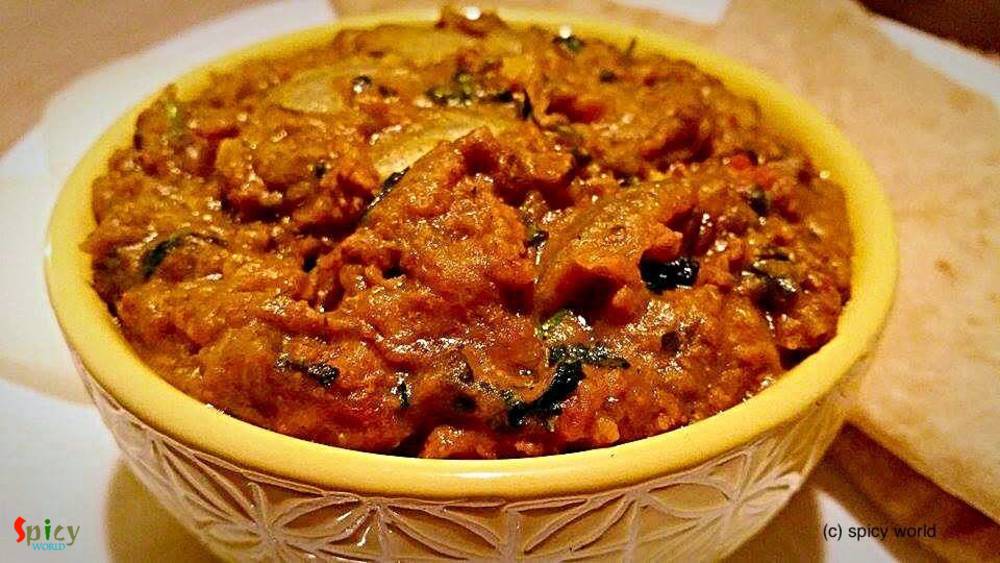 Ingredients
1 medium bowl of minced mutton.
2 small bowl of whole moong lentil.
1 big onion finely chopped.
2 Teaspoons ginger and garlic paste.
1 big tomato finely chopped.
4 green chilies.
Spice powder (1 Teaspoon cumin, 2 Teaspoons coriander, 1 Teaspoon turmeric, 1 Teaspoon garam masala).
2 Teaspoons dry fenugreek leaves.
1 small bowl of freshly chopped coriander leaves.
6 Teaspoons of mustard oil.
1 cube of butter.
Salt.
Water.
Steps
half boil the minced mutton and green lentil separately in pressure cooker with some water and salt. Keep them aside.
Now take a pan. Heat mustard oil.
Add chopped onion. Fry them till golden brown.
Add ginger and garlic paste. Mix it for 2 minutes.
Add chopped tomato, green chilies and some salt. Cook this until tomatoes become mushy.
Now add all of the spice powder. Mix it very well for 3 minutes.
Then add boiled mutton. Cook it for 10 minutes in medium flame.
Then add boiled lentil. Cook this for another 10 minutes.
Now crush the fenugreek leaves by your palms and add into the tarka. Mix it.
Then add chopped coriander leaves and mix this very well.
Turn off your gas and put the butter on top.
Your Mutton Tarka (Dhaba Style) is ready ...
Enjoy this hot with roti, naan ...

All Images and Recipes are copyrighted to Spicy World.
For more recipes visit us at http://spicyworld.in