Dum Aloo
By
Arpita
© 2020 Spicy World
Oct 18, 2015
We all love to eat 'aloor dom' along with 'luchi' or 'kochuri'. This is our comfort food. It also goes very well with 'pulao' or 'fried rice'. This one is my mom's recipe. She make the tastiest aloor dom ever. Yesterday I tried this recipe and it came out perfectly.Just give it a try.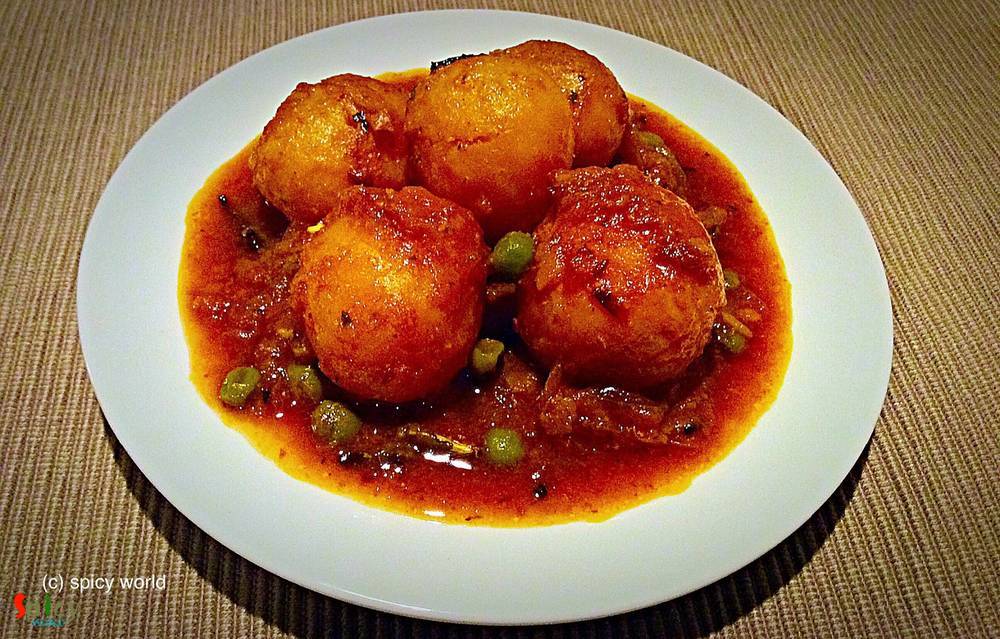 Ingredients
10 pieces of baby potatoes.
1 onion thinly sliced.
1 Teaspoon of ginger and garlic paste.
1 tomato finely chopped.
3 green chilies.
A handfull of green peas.
Whole spices(1 small cinnamon stick, 2 bay leaves, 4 green cardamoms, 4 cloves, 1 Teaspoon cumin seeds).
2 Teaspoons turmeric powder.
1 Teaspoon red chili powder.
1 Teaspoon roasted cumin powder.
1 Teaspoon roasted coriander powder.
Salt and sugar.
4 Teaspoons mustard oil.
2 Teaspoons ghee / clarified butter.
Warm water.
Steps
half boil the baby potatoes with some salt and peeled them. Keep aside.
Take a pan. Heat mustard oil.
Add the peeled potatoes and 1 Teaspoon of turmeric powder in the hot oil. Fry them for 4-5 minutes. The potatoes will get a nice color.
Remove them from oil and keep aside.
In the remaining oil add 2 Teaspoons ghee.
Add the whole spices and 2 Teaspoons sugar into the hot oil. Saute them for a minute. Caramelize the sugar.
Now add thinly sliced onion. Fry them until golden brown.
Add ginger and garlic paste. Mix it for a minute.
Add chopped tomato, salt, 1 Teaspoon turmeric powder and green chilies. Cook this in slow flame for 5-6 minutes.
When the tomato become mushy add red chili powder, roasted cumin and coriander powder. Mix this very well for 5 minutes.
When the oil starts separating add fried baby potatoes. Mix again for 4 minutes.
Now add some warm water and green peas. Cook this until the potatoes are 100% done.
Check the seasoning and adjust it according to your taste.
Turn off you gas.
Your Aloor Dum is ready ...
Enjoy this chilled drink with some whipped cream on top ...

All Images and Recipes are copyrighted to Spicy World.
For more recipes visit us at http://spicyworld.in