Pineapple Milkshake
By
Arpita
© 2020 Spicy World
Oct 19, 2015
I love the sweetness and juiciness of pineapple in summer. Then why not make a milkshake with this one in a hot afternoon?? Believe me you will love this milkshake more than anything ? ...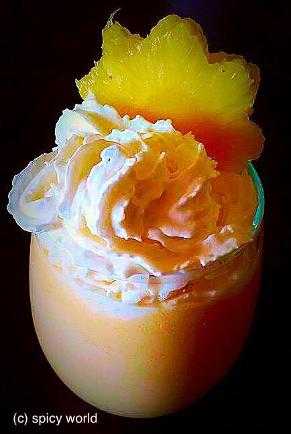 Ingredients
10-15 cubes of pineapple.
2 scoops of vanilla ice cream.
1 cup of chilled milk.
1 Teaspoon sugar.
Pinch of salt.
Whipped cream for garnishing.
Steps
Keep the pineapple cubes in freezer for 1 hour.
First blend the milk, ice cream, sugar and salt for 2 minutes.
Then add the frozen pineapple. Blend this for another 2-3 minutes.
If you want more sweetness then add another Teaspoons of sugar.
Your Pineapple milkshake is ready ...
Enjoy this chilled drink with some whipped cream on top ...

All Images and Recipes are copyrighted to Spicy World.
For more recipes visit us at http://spicyworld.in