Omelet Curry
By
Arpita
© 2020 Spicy World
Oct 16, 2015
We all love to eat omelet. My grandma used to make this dish with her love and care. That is why it always turned out so tasty. Today I am sharing this recipe with little changes. Please make this at your home.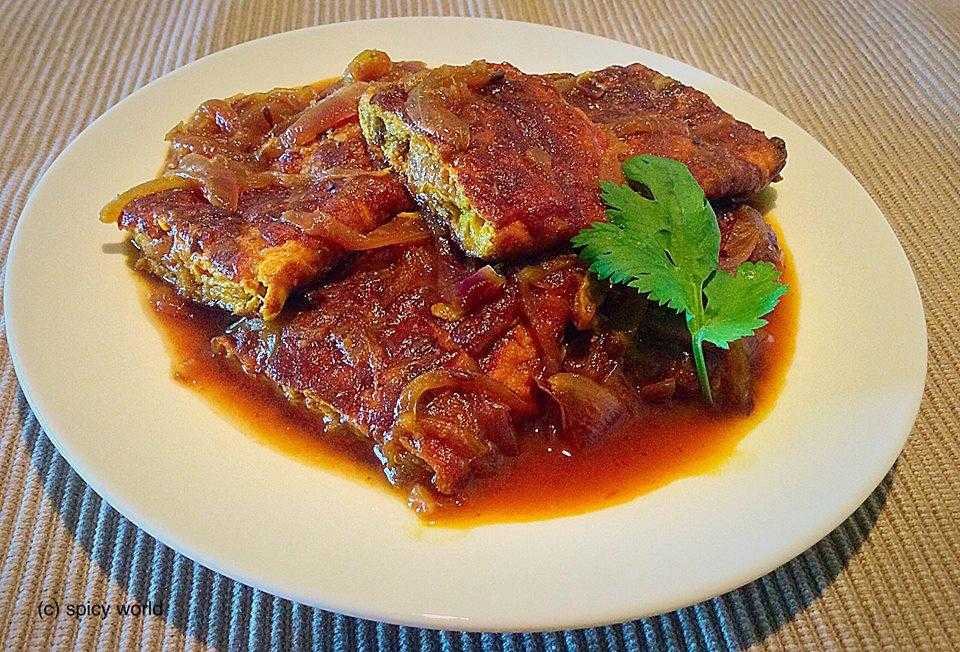 Ingredients
2 eggs.
1 big onion ( half finely chopped and half thinly sliced).
1 Teaspoon ginger and garlic paste.
2 Teaspoons tomato ketchup.
3 green chilies.
4 Teaspoons milk.
1 Teaspoon turmeric powder.
1 Teaspoon cumin powder.
1 Teaspoon cumin seeds.
1 bay leaf.
Mustard oil.
Warm water.
Salt and sugar.
Steps
Beat 1 egg with some salt, 2 Teaspoons milk.
Then add some chopped onion and green chili. Mix it very well.
Heat some mustard oil in a pan.
Add the egg mixture in the hot oil. Make an omelet. Then remove it from the pan and keep aside.
Make another one following the same process.
Now heat 4 Teaspoons oil.
Add cumin seeds and 1 bay leaf. Saute it for a minute.
Then add thinly sliced onion. Cook this till golden brown.
Add ginger and garlic paste. Mix it well for 2 minutes.
Add tomato ketchup, turmeric powder, cumin powder, some salt and half Teaspoon sugar. Mix this very well.
Then add some warm water and 2 green chilies. Let it boil.
Cut each omelet in three pieces and add into the curry.
Cook this for 10 minutes in slow flame.
Check the seasoning and turn off your gas.
Your Omelet curry is ready ...
Enjoy this hot with plain rice ...

All Images and Recipes are copyrighted to Spicy World.
For more recipes visit us at http://spicyworld.in