Macher chop (Fish Croquettes)
By
Arpita
© 2020 Spicy World
Oct 14, 2015
This is one of my favourite snacks in the evening along with tea. You can get this chop from many fast food centers in West Bengal. But today you can make this Bengali style macher chop in your own kitchen. Just follow the recipe and you will get this mouth watering snack very easily.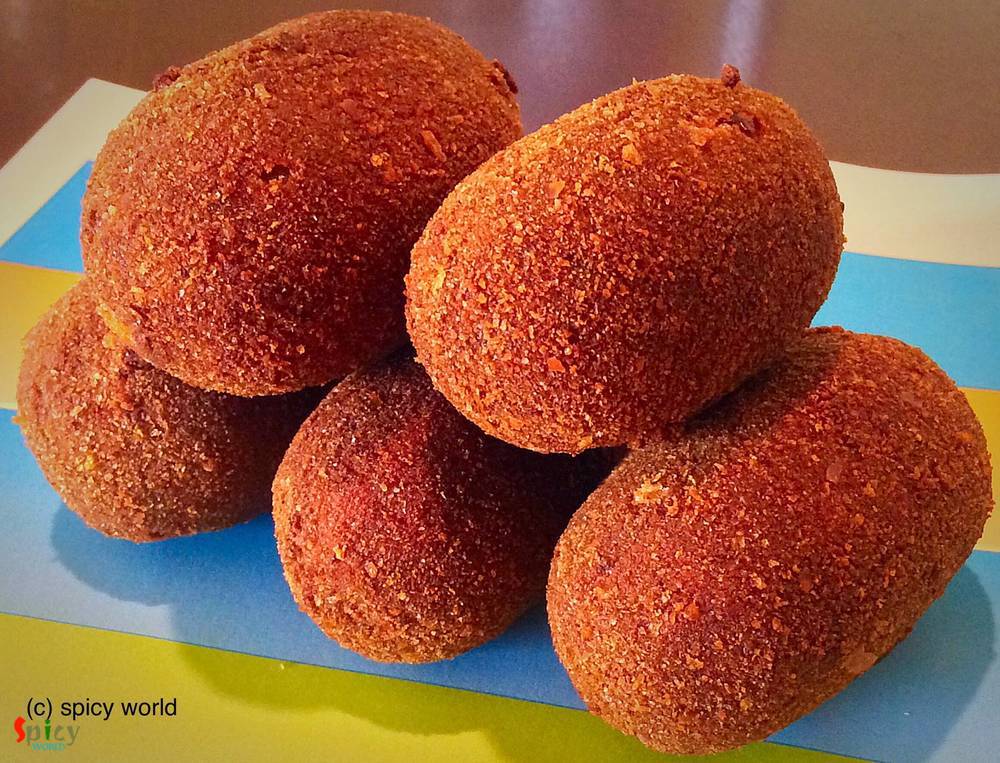 Ingredients
5 pieces of fish with bone (bhetki / rui / katla).
1 boiled potato.
1 egg.
4 Teaspoons milk.
Bread crumbs.
2 Teaspoons turmeric powder.
2 green chilies.
1 clove of garlic chopped.
1 inch ginger chopped.
1 small onion finely chopped.
Spice powder (1 Teaspoon roasted cumin powder, 2 Teaspoons roasted coriander powder, 1 Teaspoon dry mango powder, 1 Teaspoon red chili powder).
Some chopped coriander leaves.
7 Teaspoons mustard oil.
White oil for deep fry.
Steps
Marinate the fish pieces with turmeric powder and some salt. Keep it for 20 minutes.
Take a pan. Heat the mustard oil.
Fry thy fish pieces both sides one by one till golden color. Remove those in a plate and let it become cool.
Now discard the skin and debone the fish pieces. Make the fish crumble a little bit.
Mash the boiled potato with your hand and keep aside.
In the same pan add chopped ginger and garlic in the remaining hot mustard oil. Saute it for a minute.
Then add chopped onion and green chilies. Fry it for 6 minutes.
Now add all of the spice powder and salt. Mix it well.
Add the mashed potato in the mixture. Mix this very well.
Then add the debone fish and coriander leaves. Mix this for 5 minutes.
Check the seasoning and adjust it according to your taste.
Let this mixture cool down completely.
Take a bowl. Beat an egg with pinch of salt and 4 Teaspoons milk.
Put lots of bread crumbs in a flat plate.
Take a small portion of mixture in your hand and give it any shape of your choice.
Dip it in the egg and then coat this with bread crumbs. Again dip it in the egg and coat it with bread crumbs.
You have to do the coating process twice.
Keep those coated chops rest for 10 minutes.
Now fry those one by one in hot white oil for 5 minutes. Remove the chops in a paper towel.
Your Fish Chop is ready ...
Enjoy this hot with some ketchup ...

All Images and Recipes are copyrighted to Spicy World.
For more recipes visit us at http://spicyworld.in