Chicken Tangri Kabab
By
Arpita
© 2020 Spicy World
Oct 22, 2015
Nowadays 'kabab' become very popular starter in party menu or restaurant's menu. 'Tangri' means leg piece. When we go to restaurants for dinner, this is our must starter. The taste is completely different from tandoori chicken and you will love it. After today you can make this dish in your own kitchen.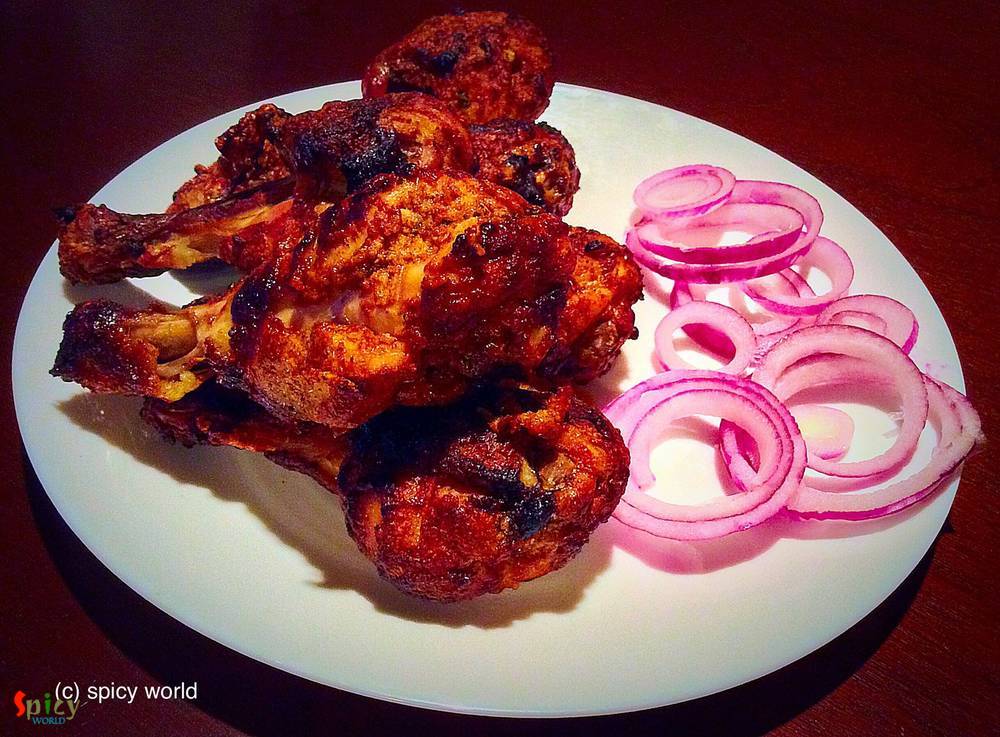 Ingredients
6 chicken leg pieces.
8 table spoon of hung curd.
4 Teaspoons mustard oil.
2 Teaspoons coriander powder.
2 Teaspoons cumin powder.
half Teaspoons cardamom powder.
1 Teaspoon garam masala powder.
1 Teaspoon redchili powder.
Pinch of red food color.
Salt.
2 Teaspoons of lemon juice.
Some butter.
Steps
Wash the chicken legs very well and pat dry. Make some slits on legs with sharp knife.
Put mustard oil, all above mentioned powder, food color and salt in a bowl. Mix it and keep it for 15 minutes.
Then add hung curd and lemon juice. Again mix this.
Now add the chicken legs in the marination. Massage the legs with curd mixture very well. Keep this in the refrigerator for overnight.
Preheat the oven in highest temperature for 15 minutes.
Place the marinated chicken legs on a baking tray.
Put the tray in upper rack of the preheated oven for 20 minutes in 480F.
Then baste some butter, change the sides and bake another 20 minutes.
Rest the chicken for 5 minutes and then serve it.
Your Tangri kabab is ready ...
Enjoy this starter with some onion rings and green chutney ...

All Images and Recipes are copyrighted to Spicy World.
For more recipes visit us at http://spicyworld.in