Makhmali Sondesh
By
Arpita
© 2020 Spicy World
Oct 25, 2015
This recipe happened by mistake last week. I know what you are thinking!! But I will never regret about this mistake because it turned out delicious. Let me tell you the story first. Last week I took an attempt to make 'sondesh', but the taste came out very less sweeter. I got panicked and immediately called my only life saver 'mom'. She adviced me to follow the process of 'rosmalai'. In rosmalai we put 'rosogolla' in kheer and in my case, I put 'sondesh' in kheer. Magically it became a new, frequently demanded dessert to my family. 'Makhmali' means very soft in hindi. 'Sondesh' will become very soft after adding it in kheer, that's why I named it 'makhmali sondesh'.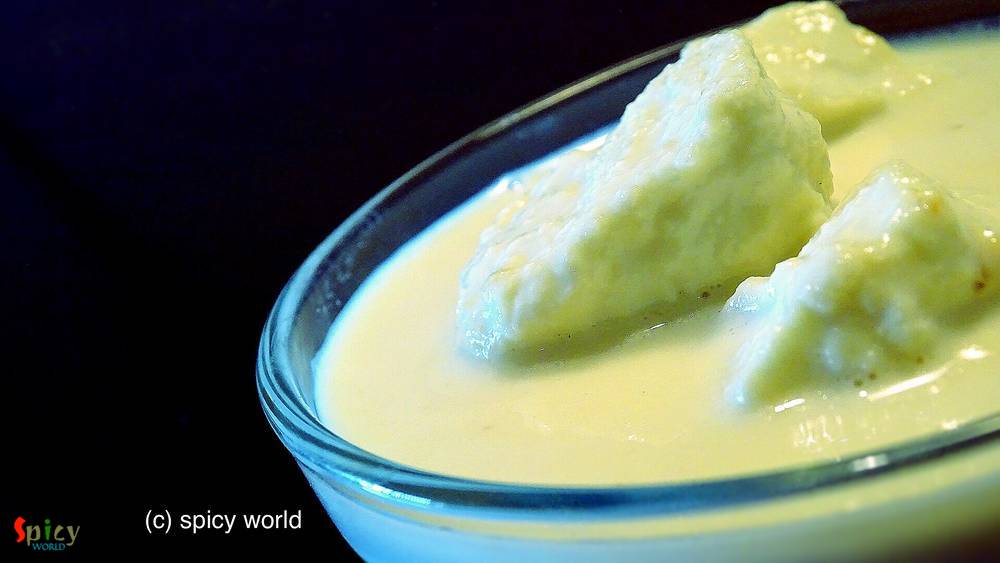 Ingredients
For Sondesh
1 liter full fat milk.
2 lemons.
1 Tablespoon vinegar.
3 Tablespoons sugar.
2 Tablespoons milk powder.
2 Teaspoons ghee / clarified butter.
For Kheer
4 cups of full fat milk.
half cup of condensed milk.
5 Tablespoons of heavy cream.
Few drops of vanilla essence.
Steps
Boil 1 liter milk in a vessel. When it starts boiling add the juices of 2 lemon and vinegar. Turn off the heat.
Milk will curdle and drain the curdled milk in a maslin cloth.
Now wash the curdled milk / chana very well in cold water. It will reduce the acidness.
Squeeze all the water from the chana. You can also put a weight on the chana for 30 minutes. The water will drain out.
Then take the chana in a plate and knead it with your palm for 5 minutes.
Add the sugar, milk powder and 1 Teaspoon ghee in the chana. Again knead it for 5 minutes. The texture will become smooth.
Greece a microwave proof bowl with 1 Teaspoon ghee.
Now place the chana in that bowl and spread it like a layer.
Put it in microwave for 3 minutes. After it comes down to room temperature let it rest for another 15 minutes in fridge.
Then cut it in small cubes and you will get your 'sondesh'.
For the kheer boil 4 cups of milk in a pan. Keep stirring the milk. When it will reduce to half add condensed milk. Mix it very well for 10 minutes.
Then add the heavy cream. Again mix it. When the kheer become thick add those sondesh into it. Cook this for another 4 minutes.
Turn off your heat and add vanilla essence. Cover the pan and let it rest for 5 minutes.
Your Makhmali Sondesh is ready ...
Enjoy this dessert chill or hot after some spicy meal ...

All Images and Recipes are copyrighted to Spicy World.
For more recipes visit us at http://spicyworld.in