Chicken Sandwich
By
Arpita
© 2020 Spicy World
Nov 2, 2015
Who doesn't love sandwich ? When there is chicken, I am always up for it ?. I make this kind of sandwich in my home oftenly. The taste is kind of Indian spicy but believe me you will love it. One can make many kinds of sandwiches, and this one is my kind. If you have everything in your hand then the process is very simple and easy. You will need 'green chutney' for the sandwich. Make this in your own kitchen and don't forget to share your sandwich story with me.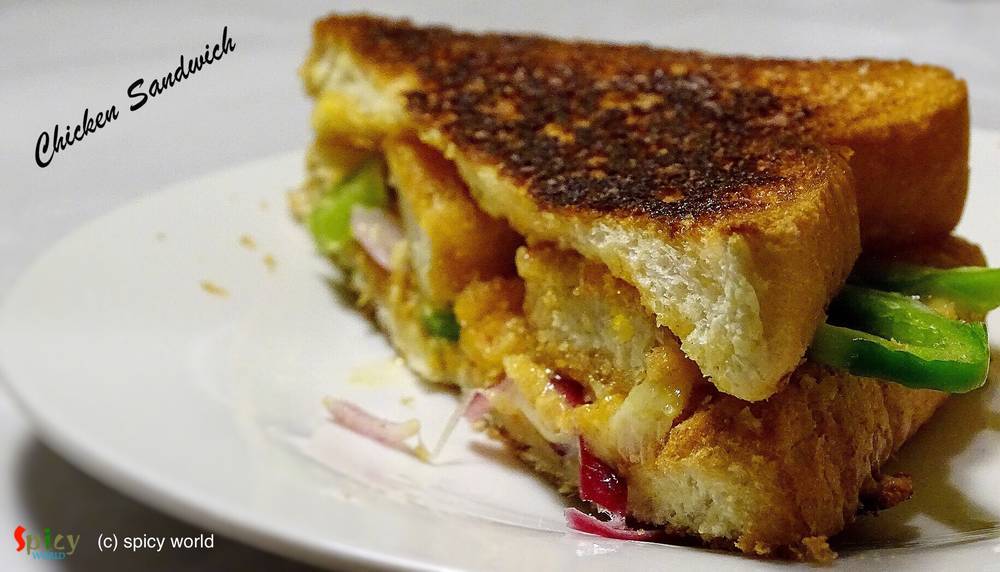 Ingredients
For Chicken
1 chicken breast.
1 Teaspoon black pepper.
half Teaspoon red chili powder.
1 Teaspoon lemon juice.
1 Teaspoon ginger and garlic paste.
Some bread crumbs.
Salt.
5 Tablespoons white oil.
For Sandwich
4 slices of white bread.
4 Teaspoons butter.
4 Teaspoons green chutney.
4 Teaspoons meyonaise.
5 Teaspoons chili sauce.
half cup onion thinly sliced.
half cup capsicum thinly sliced.
4 Tablespoons grated cheese.
Steps
For chicken
Marinate the chicken breast with black pepper, chili powder, salt, lemon juice, ginger and garlic paste. Keep it for 30 minutes.
Then heat oil in a pan.
Coat the chicken breast with marination in bread crumbs and place it in hot oil.
Fry one side in medium flame for 15 minutes then turn it to the other side and cook it for another 10 minutes. Remove it from the oil.
Let it cool down a bit and then slice the breast with a sharp knife.
Assembling
Mix the mayonaise and chilli sauce in bowl. Keep it aside.
Spread 1 Teaspoon butter on outer side of a bread which will go at the bottom.
Then spread 1 Teaspoon green chutney on inner side of that bread.
Place some chicken slices, onions, capsicum and 2 Tablespoons of cheese on that bread.
Spread 1 Teaspoon mayo mixture on the inner side of a bread which will go to the top.
Then spread 1 Teaspoon butter on outer side of that bread.
Sandwich
Place the sandwich in a hot pan. Remember, place the butter side of the bread down. Keep it for 2 minutes.
Then flip it carefully to the other side. Keep it another 2 minutes.
Remove it from the pan and cut it to half.
Your Chicken sandwich is ready ...
Enjoy this sandwich hot with cold drinks ...

All Images and Recipes are copyrighted to Spicy World.
For more recipes visit us at http://spicyworld.in