Simple Aloor Dom
By
Arpita
© 2020 Spicy World
Nov 5, 2015
Bengalis are always very fond of 'peas kochuri' and 'aloor dom' (Dum Aloo) during winter. In Texas, the temparature starts falling as we approach towards the winter time. I already took out light blankets, full sleeves and light sweters. Last weekend 'he' begged me for 'kochuri-alurdom' and here is the result ... ? I have already posted one recipe of 'aloor dom' which we can make for party or any special occasions. But this one, you can eat anyday with 'luchi', 'paratha', 'daalpuri' and very easy to make. Try this in your kitchen and don't forget to share your winter story with us.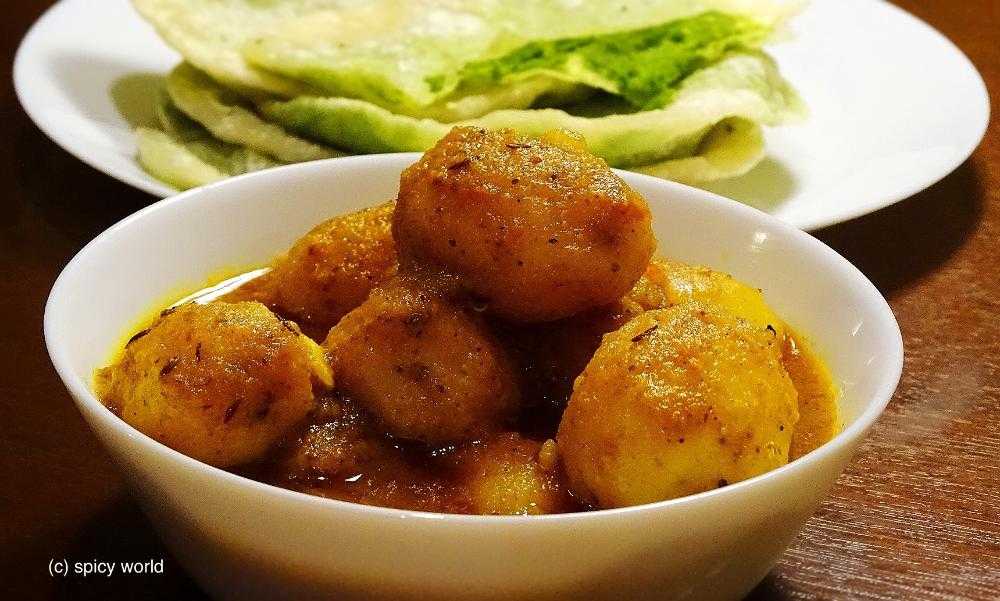 Ingredients
10 baby potatoes.
1 cup onion slices.
1 inch ginger.
2 big cloves of garlic.
half cup chopped tomato.
1 Teaspoon cumin seeds.
1 bay leaf.
1 dry red chili.
Spice powder (2 Teaspoons turmeric powder, 1 Teaspoon red chili powder, 2 Teaspoons garam masala powder).
2 green chilies.
7 Tablespoons of mustard oil.
Salt and sugar.
Warm water.
Steps
Peel the skin and wash the potatoes properly.
Make a smooth paste of onion, ginger, garlic and tomato with little water. Keep it aside.
Heat 3 tbsps of oil in a pan.
Add potatoes, half Teaspoon salt and 1 Teaspoon turmeric powder. Mix it and fry it for 5 minutes.
Remove them from the pan and heat remainning oil.
Add cumin seeds, bay leaf and dry red chili in hot oil. Saute it for a minute.
Then add the smooth paste. Cook it for 10 minutes.
Then add spice powder, salt and pinch of sugar. Mix and cook it for another 5 minutes.
Add the fried potatoes and green chilies. Mix those very well.
Add some warm water. Cook it for 20 minutes.
When the potatoes become tendor then turn off your heat.
Your simple aloor dom is ready ...
Enjoy this hot with kochuri, luchi or paratha ...

All Images and Recipes are copyrighted to Spicy World.
For more recipes visit us at http://spicyworld.in