Chicken Chutney Kabab
By
Arpita
© 2020 Spicy World
Oct 28, 2015
Last weekend I made a jar of coriander-mint chutney and kept in for fridge for future purposes. Yesterday 'he' wanted some snacks in the evening and also wanted something new. Usually we serve kababs along with green chutney but I used that green chutney for the marination of the chicken. Believe me it was worth trying and that's the reason I named it 'chutney kabab'.The texture and taste came out so good that he insisted me to share the recipe with you. Try this at your home and let me know about your story.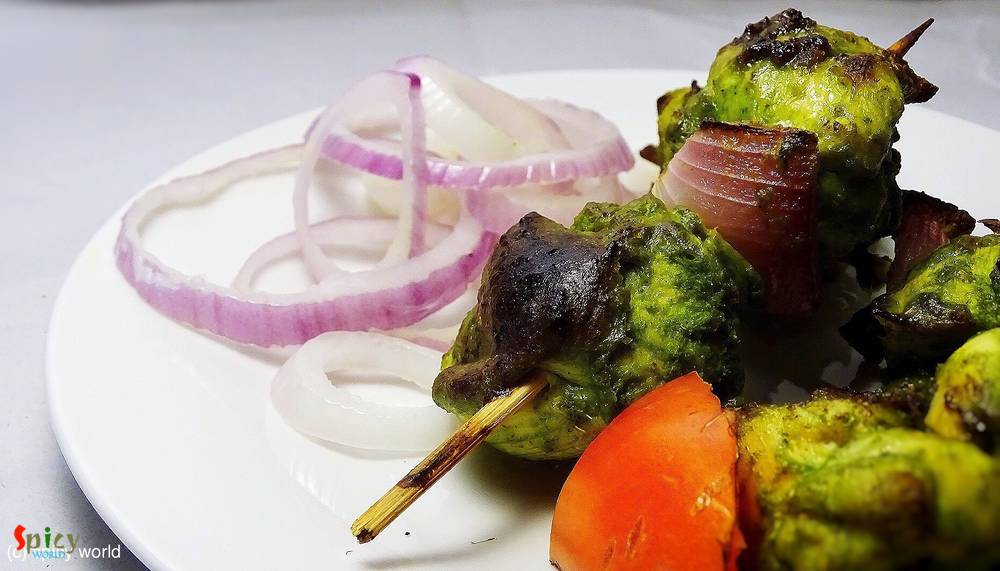 Ingredients
For chutney
10 mint leaves.
A bunch of fresh coriander leaves.
2 cloves of garlic.
6 cashews.
2 green chilies.
1 Teaspoon roasted cumin powder.
3 Teaspoons lemon juice.
1 Teaspoon chat masala.
1 Teaspoon white oil.
Salt to taste.
Little water.
For chicken
15 boneless chicken cubes.
Some onion cubes.
Some tomato cubes.
4 table spoon hung curd.
1 Teaspoon roasted coriander powder.
half Teaspoons ginger paste.
4 Teaspoons heavy cream.
Salt.
1 Teaspoon corn flour.
Mustard oil.
Butter for basting.
Steps
Add all the ingredients for chutney in a blender. Blend it like a smooth paste. Check the seasoning. You can call it 'green chutney'.
Now marinate the chicken pieces with 5 table spoon of chutney, hung curd, coriander powder, ginger paste, heavy cream, corn flour, salt and little mustard oil. Mix the chicken with all the ingredients very well and keep it in the refrigerator for 5 hours.
Preheat your oven in the highest temperature for 15 minutes.
Put the chicken into skewers along with onion and tomato cubes.
Place it on the upper rack of the oven for 20 minutes in 450F.
Then bast the chicken with some butter and turn the other side. Repeat the same process.
After that let it rest in the oven for another 5 minutes and then serve.
Your Chicken chutney kabab is ready ...
Enjoy this kabab with some onion rings ...

All Images and Recipes are copyrighted to Spicy World.
For more recipes visit us at http://spicyworld.in