Dahi Dhuan Chicken
By
Arpita
© 2020 Spicy World
Oct 23, 2015
It's always very hard for me to make as usual meal like 'daal, sabji' on weekend. I am sure you will get delicious aroma of spicy dishes from my kitchen almost every weekend. Last weekend 'charcoal' flavour was coming out from a new chicken preparation. Yes, its 'dahi dhuan chicken'. If you like to eat dhaba foods then you will become a fan of this dish. It has a thick rich gravy, nice crunch of onion and appetizing smokey flavour. Just close your eyes and go for it.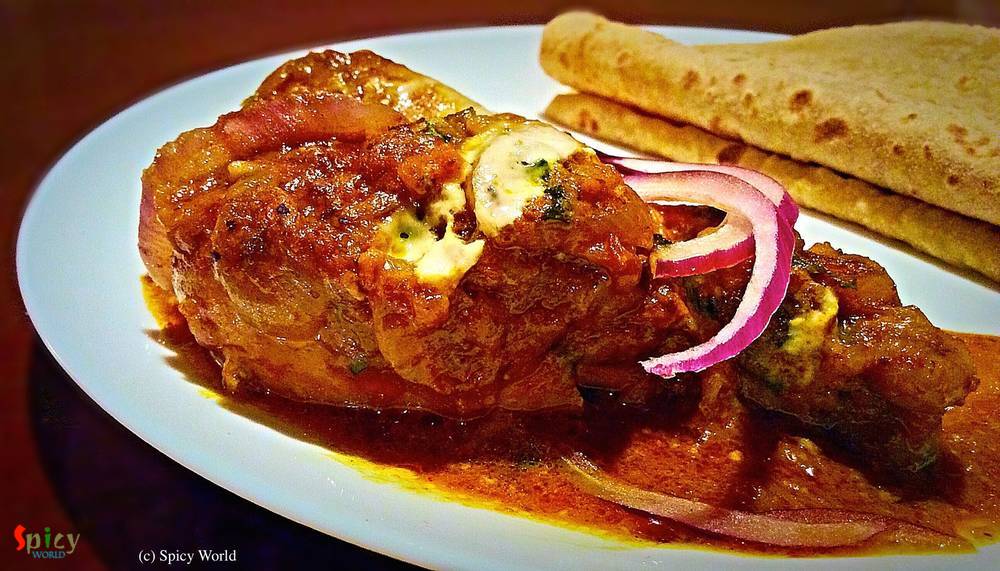 Ingredients
10-12 medium size with bone chicken pieces.
1 onion finely chopped.
2 Teaspoons ginger and garlic paste.
2 green chilies.
1 cup hung curd.
2 Teaspoons turmeric powder.
1 Teaspoon red chili powder.
1 Teaspoon coriander powder.
1 Teaspoon garam masala powder.
Salt and sugar.
7 Teaspoons white oil.
Warm water.
Some finely chopped mint leaves.
7-8 raw onion rings.
1 small charcoal.
Steps
Marinate the chicken pieces with half cup of hung curd for 2 hours.
Heat oil in a pan.
Add chopped onion. Fry it for 6-7 minutes.
Then add ginger and garlic paste. Mix this very well for 3 minutes.
Now add the marinated chicken. Mix the entire thing in high flame for 6 minutes.
Then add all mentioned powder one by one, salt and 1 Teaspoon sugar. Mix very well for 5 minutes in medium flame.
Add little water and green chilies. Mix this and cook it in slow flame for 25 minutes.
The gravy should be thick and chicken should be tendor.
Place the charcoal upon the flame of your another burner for 2 minutes.
Now beat the remaining curd very well and spread some upon the chicken as layer.
Add chopped mint leaves and onion rings one by one as layer.
Lastly place a steel bowl / aluminium foil on top and put the hot charcoal into it. Drizzle 2-3 drops of oil over the coal, it will creat the smoke and cover the pan with a tight lid.
Reduce the temperature to low and give it 5 minutes to absorb the smokey flavour.
After that turn off the heat and let it rest for another 5 minutes. Then remove the lid, charcoal piece from the pan and serve hot.
Your Dahi Dhuan Chicken is ready ...
Enjoy this special dish with plain roti / naan / paratha ...

All Images and Recipes are copyrighted to Spicy World.
For more recipes visit us at http://spicyworld.in