Muri Ghonto (Fish head with spicy rice)
By
Arpita
© 2020 Spicy World
Oct 23, 2015
In Bengali ceremony preparing any dish with fish head is a very good sign. There are plenty of dishes where they use fish head. But 'muri ghonto' is the delicacy of Bengal. I learned this dish from my mom. There are also some variations of muri ghonto. Some uses yellow lentil or flattened rice instead of gobindovog rice. But I prefer this dish what my mom used to make.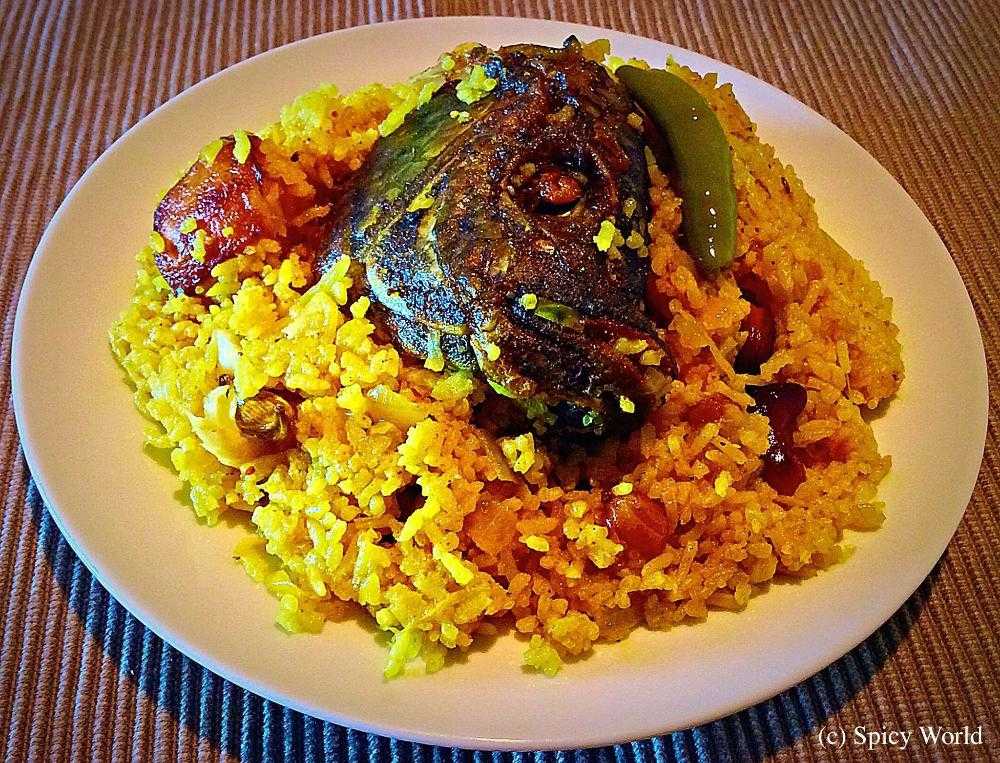 Ingredients
1 cup gobindovog / kalijeera rice.
1 potato cut into cubes.
2 fish heads (rohu / katla).
10-15 cashews and raisins.
3 Teaspoons turmeric powder.
1 Teaspoon cumin powder.
1 Teaspoon garam masala powder.
1 Teaspoon red chili powder.
Whole spices (4 green cardamoms, 1 bay leaf, 1 small cinnamon stick).
2 green chilies.
1 onion finely chopped.
1 Teaspoon ginger paste.
Salt and sugar.
10 Teaspoons of white oil.
3 Teaspoons of ghee / clarified butter.
2 cups of hot water.
Steps
Wash the rice well and soak in half cup of water for 30 minutes.
Wash the fish head thoroughly and marinate with some salt, 2 Teaspoons turmeric powder for 10 minutes.
Heat white oil in a pan. Fry both sides of the fish heads until golden brown. Keep aside.
In the remaining oil fry potatoes, cashews and raisins gradually. Remove them from oil.
Then add 2 Teaspoons ghee.
Add whole spices and saute it for a minute.
Now add chopped onion. Fry this until golden color.
Then add ginger paste. Mix it for 3 minutes.
Add green chilies, 3 Teaspoons salt, 1 Teaspoon sugar and above mentioned all powder. Mix very well for 3 minutes.
Then add the soaked rice along with the water. Mix the rice with spices for 6 minutes.
Then add fried potatoes, cashews, raisins and 2 cups of hot water. Mix and cover it for 5 minutes.
Then add fried fish heads and cook this with cover for 8 minutes in slow flame.
After that turn off the heat, add remaining ghee and reast it for 10 minutes.
Your Muri Ghonto is ready ...
Enjoy this with chicken or any other curry ...

All Images and Recipes are copyrighted to Spicy World.
For more recipes visit us at http://spicyworld.in