Palak Kichdi
By
Arpita
© 2020 Spicy World
Oct 1, 2015
When you are in a mood of healthy eating, just give it a try ... You will find peace during eating this khichdi because it has some mild flavours and healthy ingredients. This is a meal which you can not ignore.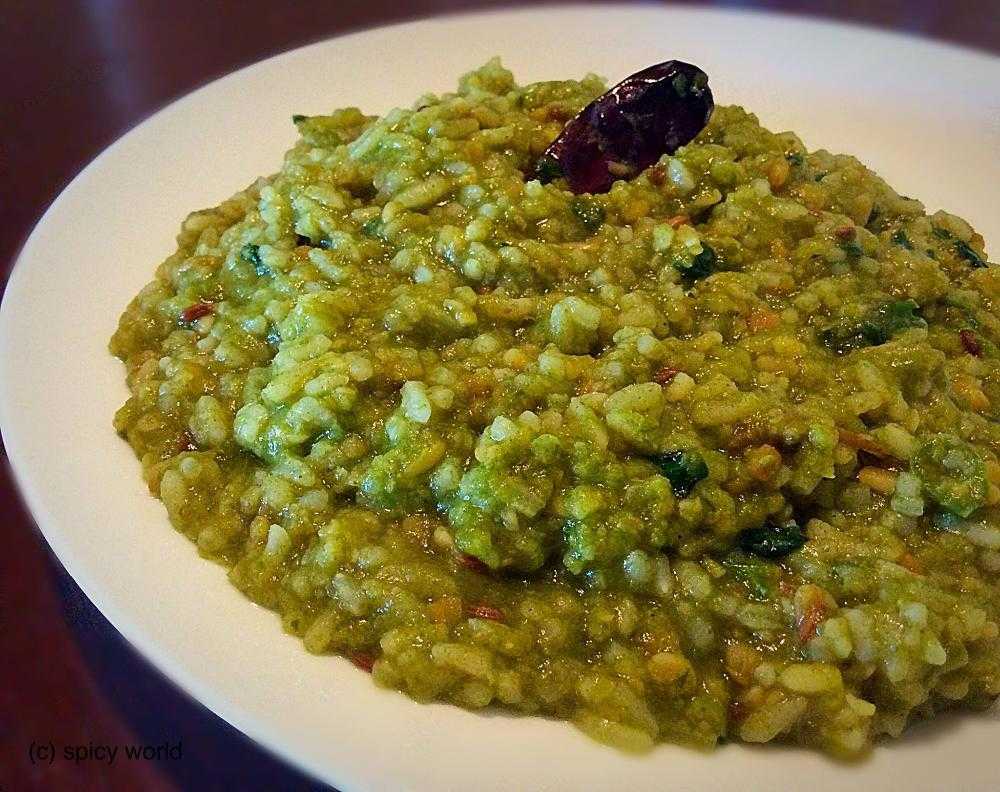 Ingredients
Fresh spinach leaves 2 cups.
1 cup of rice.
1 cup of yellow lentils (moong daal).
1 small onion chopped.
1 Teaspoon chopped ginger.
2 Teaspoons chopped garlic.
1 chopped tomato.
2 chopped green chilies.
1 Teaspoon turmeric powder.
1 Teaspoon garam masala powder.
1 dry red chili.
4 cloves.
1 small cinnamon stick.
half Teaspoons asafetida.
1 Teaspoon cumin seeds.
2 Teaspoons chopped coriander leaves.
4 Teaspoons ghee / clarified butter.
Salt and sugar.
Some warm water.
Steps
Wash the rice and lentils very well.
Boil the rice and lentils together with some salt and 1 Teaspoon turmeric powder. Keep it aside.
Then make a pure of fresh spinach leaves with some water. Keep this aside.
Now take pan and heat 2 Teaspoons ghee.
Add 1 Teaspoon of chopped garlic and half Teaspoon of ginger. Saute it for a minute.
Then add chopped onion. Fry this for 6 minutes.
Then add chopped tomatoes, green chilies, salt and a pinch of sugar. Cook this for another 6 minutes.
When this masala starts to separate oil add the spinach pure. Stir it well and cook this without cover for 7 minutes.
Then add the boiled rice and lentil (kichdi). Mix it well.
The consistency should be a little bit of runny like the picture. So add some warm water if you need to.
Add a Teaspoons of garam masala. Mix the entire thing very well. Check the seasoning. Then keep aside.
For tempering take another pan. Heat the remaining ghee. Ghee should be very hot.
Add cumin seeds, dry red chili, asafetida, cloves, cinnamon stick, remaing chopped ginger and garlic, coriander leaves one by one but quickly. Mix it for 1 minute.
Then add this tempering into the khichdi. Mix it 1 last time and cover with a lid for 5 minutes before serving.
Your palak kichdi is ready ...
Serve this hot with any type of fried items.

All Images and Recipes are copyrighted to Spicy World.
For more recipes visit us at http://spicyworld.in