Watermelon Smoothie
By
Arpita
© 2020 Spicy World
Sep 25, 2015
I love to eat chilled watermelon cubes during summer. My divaai(grandma) serve watermelon cubes with some crushed ice on top and then magically the taste level increases twice. She has her own unique style. So, today I made an attempt on watermelon smoothie and it came out quite delicious. Hope you will like it.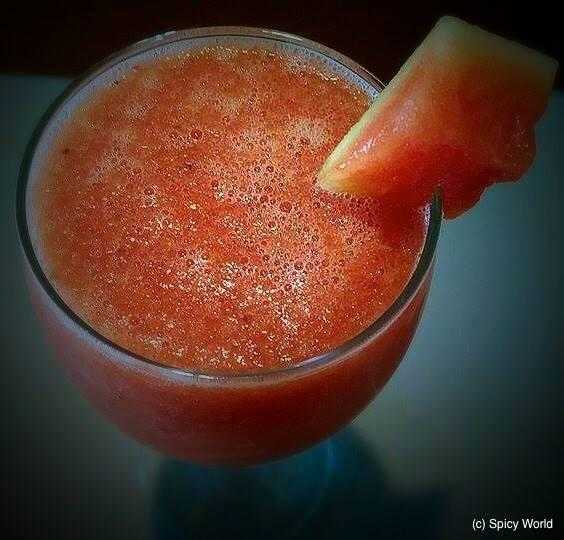 Ingredients
Two cups of freezed watermelon cubes.
Lemon juice 4 Teaspoon.
Sugar 3 Teaspoon.
Black salt half Teaspoon.
Mint leaves 3-4.
Finely chopped half Teaspoon ginger.
Steps
Cut the watermelon in cube sizes. Then put it in the freezer for 1 hour.
Take a blender. Put all the ingredients. Blend it very well.
Check the seasoning. Adjust the sweetness according to your taste.
Your watermelon smoothie is ready ...
Enjoy this as summer cooler ...

All Images and Recipes are copyrighted to Spicy World.
For more recipes visit us at http://spicyworld.in