Fish Kaliaa
By
Arpita
© 2020 Spicy World
Sep 23, 2015
In Bengali's weekdays lunch menu fish has to be there. There is a say 'mache-bhate-bangali' indicates our common meal is fish curry and rice. This is a special dish for party, occasions or gatherings. Macher kaliya goes very well with sweet pulao, fried rice or even plain rice.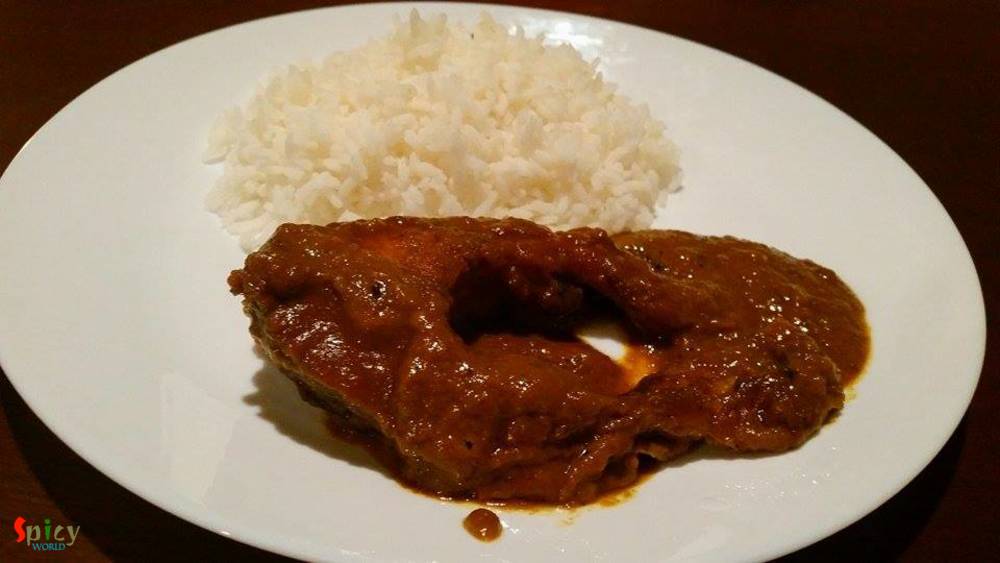 Ingredients
Rohu fish 4 pcs.
Brown onion 1 cup.
Ginger and garlic paste 1 Teaspoon.
Hunk curd 4 Teaspoon.
Turmeric powder 2 Teaspoon.
Cumin powder 1 Teaspoon.
Coriander powder 1 Teaspoon.
Red chili powder 1 Teaspoon.
Salt and sugar.
One bay leaf.
Three cloves.
Three green cardemom.
One small cinnamon stick.
Mustard oil 7 Teaspoons and Ghee 1 Teaspoon.
One green chili.
Warm water.
Steps
Marinate the fish pieces with salt and 1 Teaspoon of turmeric powder for 20 minutes.
Take a pan and heat mustard oil.
Put the marinated fish pieces one by one and fry both side till it become red. Then keep aside.
Make a paste of brown onion and hunk curd.
In the same oil add bay leaf, green cardemom, cloves, cinnamon stick. Saute it for a minute.
Then add the ginger and garlic paste. Fry it for 2 minutes.
Then add the onion paste. Cook it for 10 minutes.
Then add all mentioned spice powder, salt, sugar. Cook this for 6 minutes.
Then add the fried fish pieces, green chili and some water. Cook the fish with gravy for another 10 minutes.
Turn off your gas and add 1 Teaspoon ghee on top.
Your fish kaliaa is ready ...
Serve hot with plain rice ...

All Images and Recipes are copyrighted to Spicy World.
For more recipes visit us at http://spicyworld.in