Simple Murgir Jhol (Chicken Curry)
By
Arpita
© 2020 Spicy World
Sep 22, 2015
I am an inborn chicken lover. During summer it is not always healthy to eat spicy chicken preparations. For this reason my mom used to make this simple jhol / curry for me. It tastes really good with plain hot rice or plain roti. Give it a try.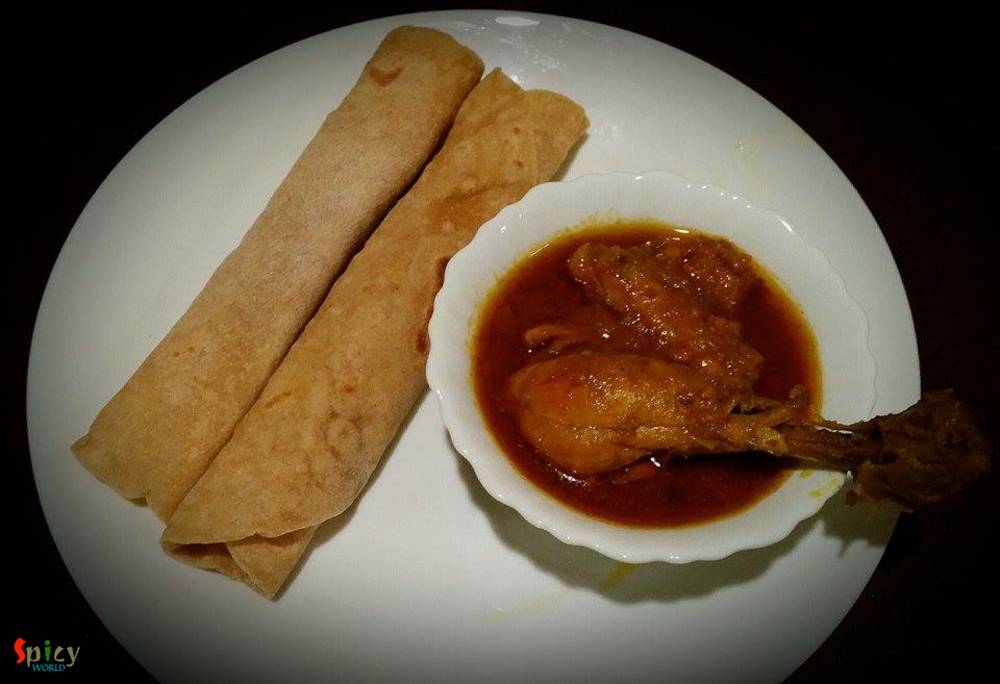 Ingredients
Chicken 10-15 pcs.
One big onion finely chopped.
One tomato chopped.
Ginger and garlic paste 2 Teaspoon.
Whole spices (1 bay leaf, 1 Teaspoon cumin seeds, 2 green cardamoms, 5 whole black pepper).
Spice powder (turmeric 3 Teaspoon, cumin 1 Teaspoon, coriander 1 Teaspoon, red chili 1 Teaspoon).
Two green chilies.
Salt and sugar.
Mustard oil 6 Teaspoon.
Warm water.
Steps
Marinate the chicken pieces with 2 Teaspoons turmeric powder, 1 Teaspoon red chili powder, 2 Teaspoons mustard oil and some salt. Keep aside for 2 hours.
Take a pan. Heat the remaining mustard oil.
Add 2 Teaspoons of sugar. Caramalize it.
Then add the whole spices. Saute it for a minute.
Add the chopped onion. Fry this till it gets golden.
Then add ginger and garlic paste. Mix it for 2 minutes.
Add the chopped tomatoes and some salt. Cook this for 10 minutes in slow flame.
Then add all mentioned spice powder. Mix it and cook this another 7 minutes.
When the oil starts separating add the marinated chicken. Mix it very well.
First cook this chicken in high flame for 7 minutes. Then reduce the flame to medium and cook this with lid for 15 minutes.
You can see chicken will release its own juices.
Then add 2 cups of warm water and green chilies. Cook this for another 25 minutes.
Check the chicken. Gravy should be runny.
Your simple chicken curry is ready ...
Serve this hot with plain roti or rice ...

All Images and Recipes are copyrighted to Spicy World.
For more recipes visit us at http://spicyworld.in