Marinate the mutton pieces with ginger garlic paste, half Tablespoon of red chilli powder, pinch of salt, mustard oil and half Teaspoon of garam masala powder. Massage the mutton pieces with everything very well.
Keep it in the fridge for overnight or at least for 4 hours.
Now take a pressure cooker.
Add those mutton pieces with half cup of water in the cooker. Give it pressure until the meat becomes totally soft.
If you find some juice after opening the lid, bring the heat to high and stir the mutton until it absorbes all the juices.
Now add the mutton pieces into a blender and blend it to a smooth paste. Keep it aside.
While cooking the mutton, it must have released some oil. Do not discard it.
Add the chopped onion in that oil. Fry for 5 minutes.
Then add chopped ginger and garlic. Cook for 2 minutes.
Add the remaining garam masala powder, red chilli powder, roasted cumin and coriander powder. Mix well for 2 minutes.
Now peel the skin of the boiled potato, mash it well and add it in the cooker. Mix very well for 3 minutes.
Lastly add the mutton paste, chopped green chilies and coriander leaves, salt. Mix well for another 3 minutes and turn off the heat. The filling is ready.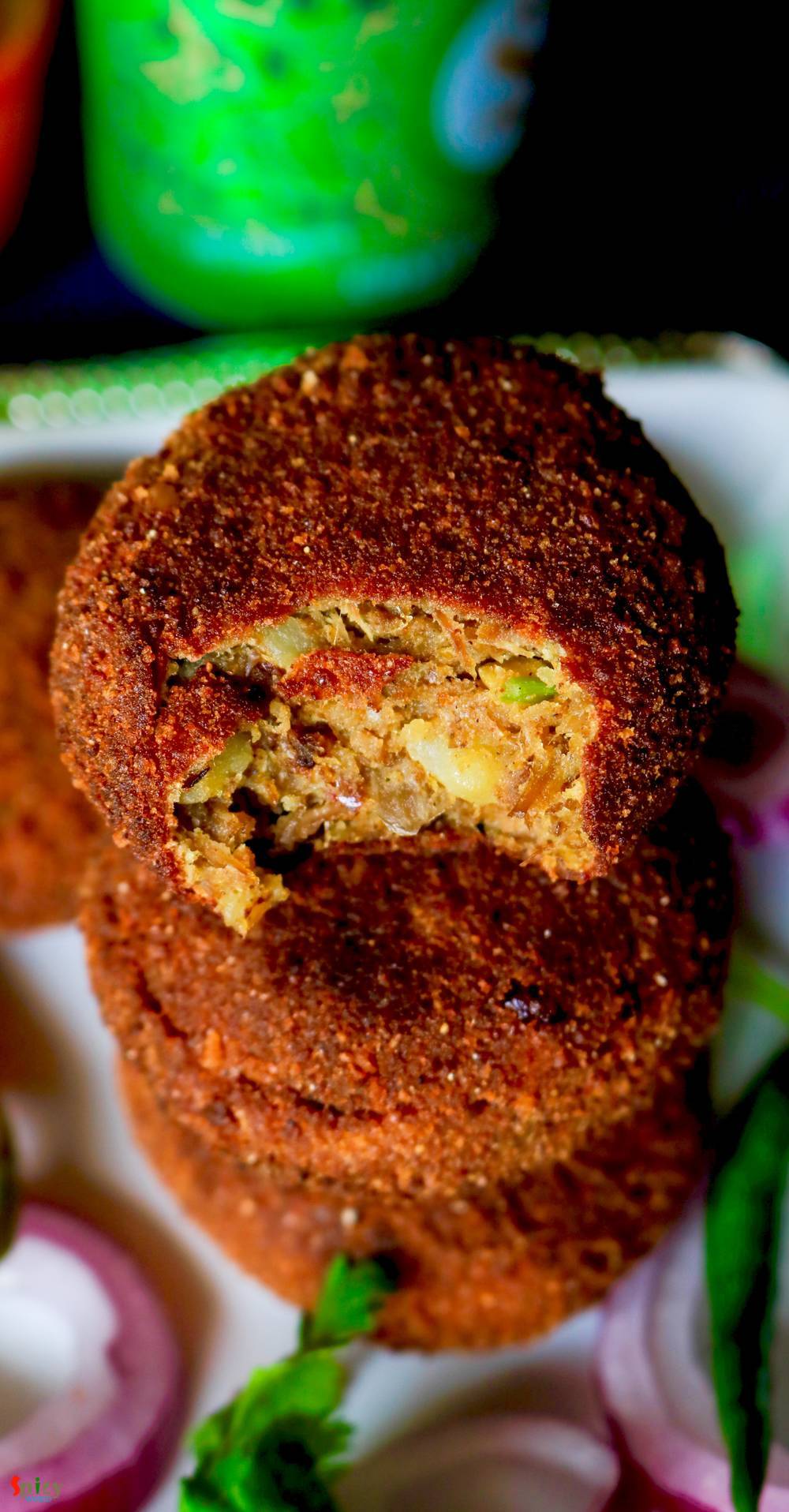 Let it cool down a bit and then take some portion from the filling, make a patty like shape.
You will get 6 medium size croquettes out of this.
Beat the egg with pinch of salt.
Dip one patty into the egg and then roll it in breadcrumbs. You can also double coat it.
Make rest of them in this way and keep it in the fridge for 30 minutes.
After that fry them in hot oil, each side for 2 minutes.