Pudina Chicken / Mint flavoured Chicken Curry
By
Arpita
© 2016 Spicy World
Jun 20, 2016
Mint leaves / Pudina patta have it's very own unique taste and flavour, which is why you can only use them in those dishes where it fits properly. Not every chicken curry tastes good with mint but this one is always a hit in my family. The recipe is very simple with loads of fresh flavour of garlic, mint, green chilies and black pepper. They all sounds delicious, aren't they ? Don't forget to serve few onion rings and green chilies with this 'pudina chicken'. It's a spicy preparation and goes best with plain roti / chapati. Try this easy recipe in your kitchen and enjoy.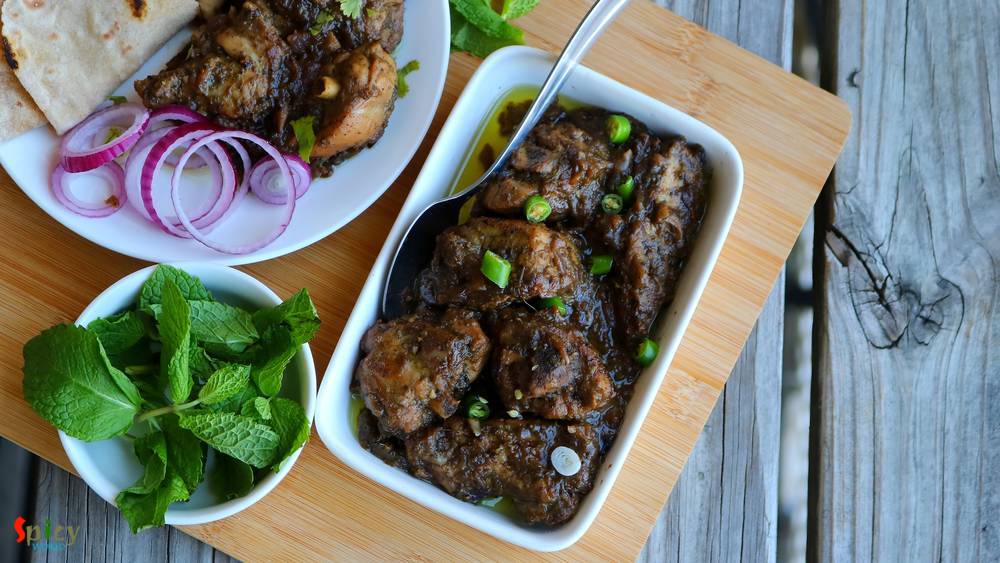 Ingredients
1 kilo of chicken with bone pieces.
1 big onion, thinly sliced.
2 cloves of garlic, grated.
4 green chilies.
2 Tablespoons of fresh black pepper powder.
3 - 4 Tablespoons of curd / yogurt.
Salt.
A handful of fresh mint leaves, chopped.
3 Tablespoons of oil.
Water.
Steps
Heat the oil in a pan.
Saute grated garlic in hot oil for few seconds.
Add onion slices with pinch of salt. Cook for 5 - 7 minutes.
Then add washed chicken pieces. Cook for 7 minutes.
Now lower the flame and add the curd. Mix very well and then add black pepper powder, green chilies and some more salt. Mix well for 7 minutes.
Then add half of the mint leaves. Cook for few minutes.
Add some warm water and cook the chicken until it becomes soft.
Lastly add the remaining mint leaves and pinch of black pepper powder. Mix well and turn off the heat.
Your pudina chicken is ready ..
Serve them hot with plain roti and some salads ..

All Images and Recipes are copyrighted to Spicy World.
For more recipes visit us at http://spicyworld.in