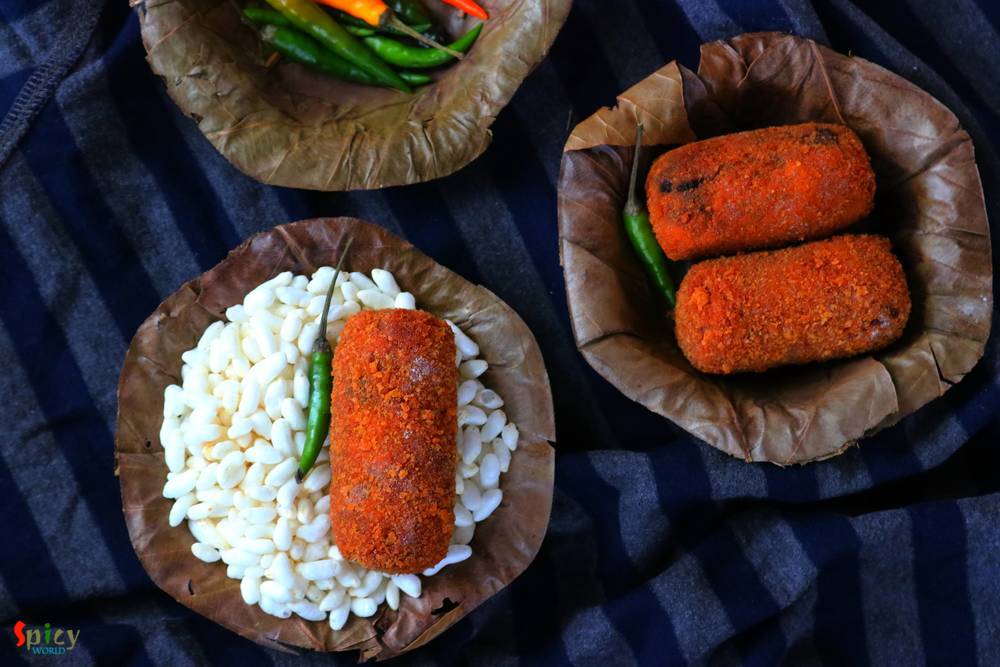 Dry roast the cumin seeds, coriander seeds and dry red chili in a pan for 3-4 minutes on low flame. Then grind them to a fine powder (Bhaja Moshla). Keep it aside.
Heat 1-2 Tablespoons of oil in a pan.
Saute the panchforon for few seconds.
Then add ginger paste and chopped green chilies. Fry for few seconds.
Then add grated (you can also chop them finely) beetroots and carrots. Do not boil them otherwise the veggies will lose their juices and the filling won't come out tasty. Cook for 5 minutes.
Add salt and cook for another 4-5 minutes.
Then add boiled and mashed potato. Mix well for 3 minutes.
Add crushed peanuts and raisins. Mix well.
Add 2 Tablespoons of that prepared dry roasted powder (bhaja moshla). Mix well.
Lastly add 1 Teaspoon of sugar and some more salt. Mix well and turn off the heat.
Let the mixture cool down completely.
After that take some portion from the mixture within your palm and give a oblong or patty like shape by constantly rolling it.
Mix the flour and little water in a bowl. The flour mixture will be runny.
Now dip one croquette into the flour mixture (you can also use beaten egg instead of this) and then roll it in breadcrumbs.
Repeat the process to crumb the croquettes well.
Keep them in fridge for 15-30 minutes.
Then drop them gently in hot oil and fry for 3-4 minutes or until they become golden in color.
After that take them out in a tissue paper and sprinkle black salt or chaat masala all over them