Chicken Roll
By
Arpita
© 2020 Spicy World
Sep 17, 2015
This is an awesome non vegetarian snack item. You can also say its a complete snack because it has chicken and paratha. Hope you will like it.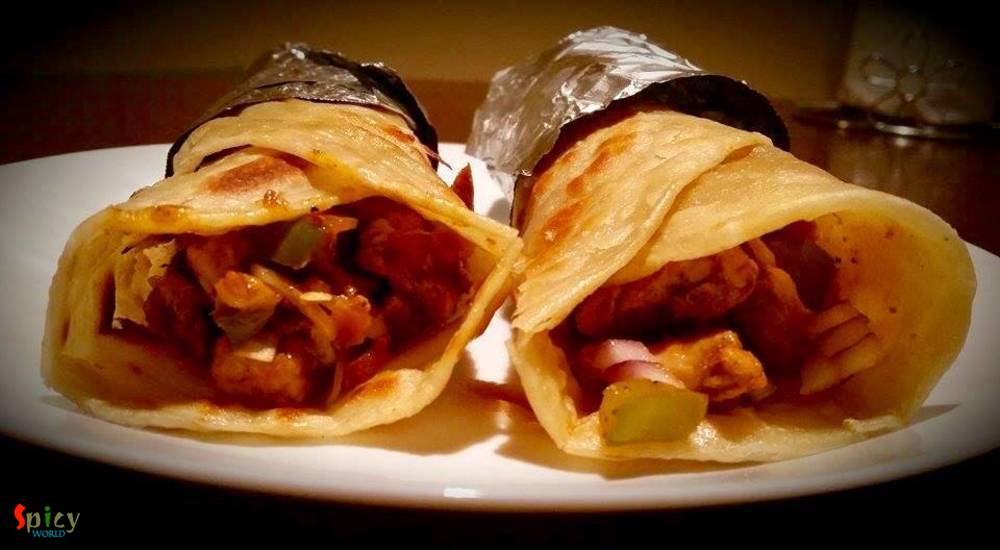 Ingredients
All purpose flour 2 small bowls.
Boneless chicken cubes 20 pieces.
One chopped onion.
One chopped green capsicum.
One clove garlic chopped
One inch ginger chopped.
Two green chilies.
Tandoori masala 2 Teaspoon.
Tomato ketchup 2 Teaspoon.
Chili sauce 2 Teaspoon.
Salt.
Black pepper powder 1 Teaspoon.
White oil 5 Teaspoon.
Curd 3 Teaspoon.
Lemon juice 2 Teaspoon.
Msg 1 Teaspoon.
Water.
Alumunium foil.
Steps
Filling
Marinate the chicken cubes with salt, black pepper, tandoori masala, lemon juice. Keep it aside for 1 hour.
Take a pan. Heat 2 Teaspoons oil.
Add chopped ginger and garlic. Fry it for a minute.
Then add the chopped onion, capsicum. Saute it for 2 minutes.
Add marinated chicken. Cook it on high flame for 7 minutes.
Add tomato and chili sauce. Saute it.
Add msg. Saute it.
Dont make it runny or dry. It should be juicy.
Your filling is ready.
Wrapping
Take a bowl. Put the all purpose flour.
Add some salt. Mix it.
Add curd. Mix it well.
Now add some luke warm water. Mix it well and make a soft dough. Keep it aside for 15 minuts.
Then take some portion from the dough and make a shape like ball.
Now with the help of rolling stick make the ball a thin flat bread.
Then heat a flat pan. Pan should be hot.
Place the thin flat bread. You can see the bubbles. That means one side is done.
Turn the other side. Keep it for 2 minutes. Then brush some oil on both side and keep it in the pan for a minute.
Your paratha / wrap is ready.
Assembling
Take one hot paratha. Put some filling on one side. Put some chopped onion on top of it and roll it .
Then take a piece of alumunium foil and cover the bottom part of the roll.
Your chicken roll is ready .... Enjoy ...!!

All Images and Recipes are copyrighted to Spicy World.
For more recipes visit us at http://spicyworld.in