Egg Chicken Chowmein
By
Arpita
© 2020 Spicy World
Sep 16, 2015
In India we make chinese food with some own variations, that's why we call it 'indo-chinese'. Egg chicken chowmin is very famous street food from kolkata. You can also get veg chowmin, prawn chowmin, only chicken chowmin etc. But my favourite is this one. Try this at your home, you will get the exact taste of street food.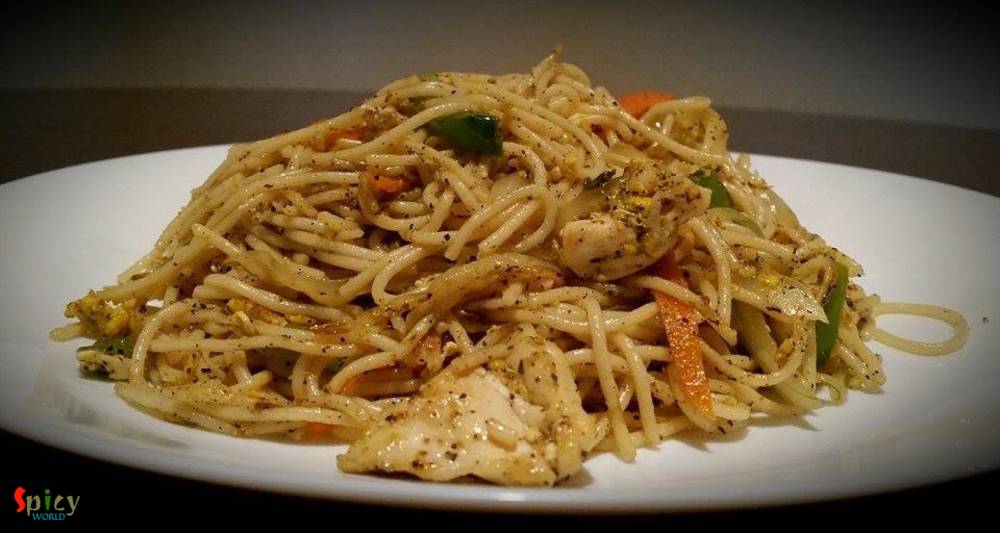 Ingredients
Hakka noodles.
Two eggs.
Ten chicken cubes.
One medium size onion sliced.
half carrot sliced.
One capsicum sliced.
Two green chilies chopped.
One clove of garlic chopped.
Salt.
Black pepper 2 Teaspoon.
Msg 1 Teaspoon.
Vinegar 1 Teaspoon.
White oil 4 Teaspoon.
Water.
Steps
Boil the noodles (for 2 person) in water with salt and 1 Teaspoon oil.
Drain the water and wash the noodles with cold water. Keep aside.
Now take a wok. Heat 3 Teaspoons oil.
Add chopped garlic. Saute it for a minute.
Add sliced onion, capsicum, carrot and salt. Fry it for 4 minutes in high flame.
Add the chicken cubes. Cook it for 3 minutes.
Now add two eggs and some salt. Scrumbled the eggs and fry it for 4 minutes.
When all veggies, chicken and eggs are done add the boiled noodles. Mix it very well.
Now add the black pepper, msg and vinegar. Mix it well in high flame.
Adjust the salt and dont make the vegetables soggy.
Your egg chicken chowmein is ready ...!!!
Serve hot with some ketchup/red chili sauce.

All Images and Recipes are copyrighted to Spicy World.
For more recipes visit us at http://spicyworld.in