Fried Rice
By
Arpita
© 2020 Spicy World
Sep 17, 2015
There are many varities of fried rice you can make like 'chinese style', 'indian style', 'fried rice with sauce' etc. This recipe is about indian style. This is a complete meal with vegetables. You can add chicken, egg, prwan, mushroom in this dish. You will love this dish.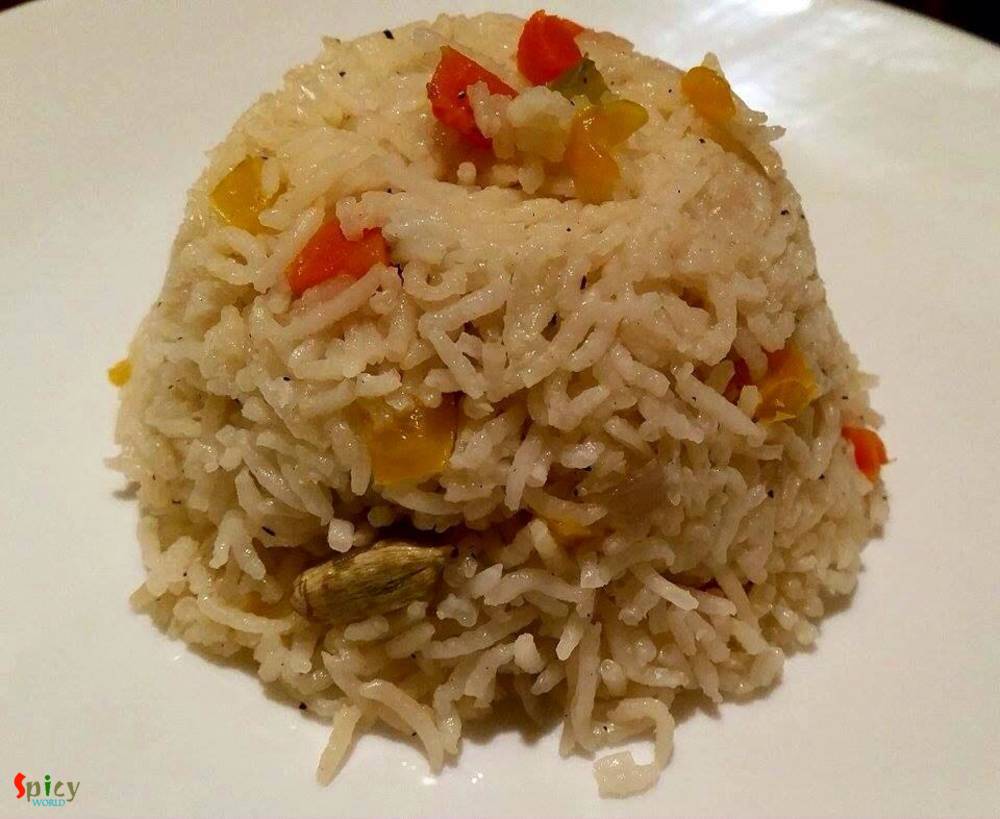 Ingredients
Basmati rice 3 cups.
One onion finely chopped.
One green capsicum finely chopped.
One carrot finely choppes.
One yellow capsicum finely chopped.
Some green beans finely chopped.
Some cashews and raisins.
Clarified butter 5 Teaspoon.
Five green cardemoms.
Five cloves.
One star anis.
One small cinnamon stick.
Ground black pepper 2 Teaspoon.
Msg 1 Teaspoon.
Salt and sugar.
Water.
Steps
Wash the rice twice.
Soak the rice in water for 30 minutes.
Take a vessel. Pour 7 cups of water. Let it boil.
When the boiling starts add green cardemoms,cloves,star anis,cinnamon stick,4 Teaspoons salt and 3 Teaspoons sugar.
After 2 minutes add the soaked rice. Keep it boiling. Check every 2 minutes.
After 10-15 minutes the rice will be done. It should be 90% done. Drain the water. Keep it aside.
Now take a wok. Heat clarified butter.
Now add all the chopped vegetables , cashews and raisins. Stir it in high flame.
Add 2 pinches of salt, black pepper and msg. Mix it very well.
After 6 minutes of stirring add the boiled rice. Gently mix this with the vegetables.
Check the taste. It should be lightly sweet.
Turn off your gas.
Your fried rice is ready ...
Enjoy this hot with any type of gravy.

All Images and Recipes are copyrighted to Spicy World.
For more recipes visit us at http://spicyworld.in